Deputy Prime Minister Nguyen Thien Nhan gave environment award to Petrolimex Khanh Hoa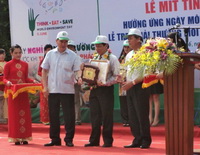 Hue City - In the morning of June 5, 2013at Nghinh Luong Dinh, Deputy Prime Minister Nguyen Thien Nhan gave Environment Award to Phu Khanh Petroleum Company (Petrolimex Khanh Hoa).
The award is in line with activities supporting World Environment Day sponsored and organized by The Ministry of Natural Resources and Environment.
In 2013, 50 collectives and individuals are honoured to receive this award as a recognition and glorification of their efforts in the protection of environment.
As a member of Vietnam National Petroleum Group (Petrolimex) in South Central Vietnam, directly in charge of ensuring petroleum products for three provinces of Khanh Hoa, Phu Yen and Ninh Thuan; ensuring the source of supply for member units of Petrolimex in the High Plateaux , the collective officers and workers of the company over past years have always ensured safety in production and business, and sanitation and environment works. ,
Some pictures:
Deputy Director of Petrolimex Khanh Hoa Vu Dinh Dung attending the meeting (sitting first in second row, with garland)
Deputy PM Nguyen Thien Nhan gave Vice Director Vu Dinh Dung Environment Award 2013 for Petrolimex Khanh Hoa.
Deputy Prime Minister Nguyen Thien Nhan and Minister Nguyen Minh Quang gave Vietnam Environment Awards 2013 to collectives and individuals.