Petrolimex makes up 50% of the domestic marketshare – leading the petroleum business downstream.
Petrolimex always looks for safety solutions to ensure national energy security, sufficient supply of petroleum types for the national socio-economic development, national security and defence and public consumption need. Accounting for about 50% of the domestic marketshare, Petrolimex is Viet Nam's leading enterprise in petroleum trading. Petrolimex's sales volume has maintained a stable growth rate of over 5 % per annum for the past five years. Petrolimex is also the pioneer, and only petroleum enterprise in the Vietnamese market, that provides high-standard eco-friendly fuel sources including Euro 5-standard Diesel (DO 0.001S-V), and Euro 4-standard Ron 95 (RON 95-IV).
Scope of operations
Petrolimex's fuel supply system covers the whole country
Promote position and scope of the leading enterprise in petroleum business
Storage system
The storage system is distributed along the length of the country to ensure the reserve and supply of petroleum according to the market demand, such as: Duc Giang Oil Depot (Ha Noi); Thuong Ly Oil Depot (Hai Phong); Nha Be Oil Terminal (HCM City); Central Oil Storage Cluster (Phu Khanh - Binh Dinh - Da Nang - Nghe An); Southwestern Oil Storage Cluster (Can Tho); B12 Oil Terminal, etc.
Southern region:
Nha Be Oil Terminal
Largest oil terminal:
Van Phong Bonded Oil Terminal
Through a system of more than 2,700 petrol stations belonging to Petrolimex and over 2,800 petrol stations belonging to agents, general agents and franchisees nationwide
---
Products
The Vietnam National Petroleum Group is the largest distributor of petroleum types meeting national and international standards in all 63 provinces and cities across the country. Eco-friendly and high-quality energy products, including traditional and alternative energy varieties, that the Group has selected and supplied for the market through domestic and import sources consist of E5 RON 92-II, RON 95-IV, RON 95-III, DO 0.001S-V, etc.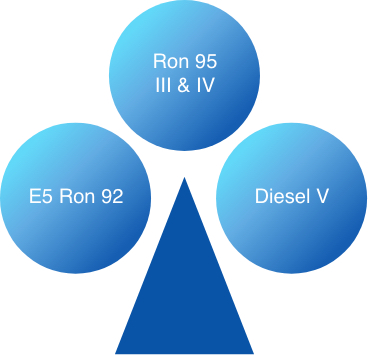 Retail petrol prices
---
Supply system
Petrolimex has 43 member units directly trading petroleum nationwide. Abroad, Petrolimex has Petrolimex Singapore One Member Co., Ltd and Petrolimex Laos One Member Co., Ltd. The Group's retail sales system spreads throughout all 63 provinces and cities with petrol stations being situated in key locations. In Viet Nam, the retail network of all economic sectors has more than 17,000 petrol stations, in which over 5,000 petrol stations belong to Petrolimex, facilitating consumers to get access to goods and services directly supplied by Petrolimex.

Petrolimex Aviation
Established on April 28, 2008, Petrolimex Aviation has always been the leading enterprise in trading and supplying aviation fuel in the Vietnamese market and has maintained a stable, sustainable growth rate, affirming its brand stature and international reach.
After more than 10 years, Petrolimex Aviation has developed a network supplying fuel in five domestic airports and more than 70 international airports for strategic customers including Vietjet Air and Bamboo Airways among others, as well as for over 50 national and international airlines and agents.
Petrolimex Aviation is Viet Nam's first and sole enterprise that trades aviation fuels in international markets, supplying Jet A-1 fuel for traditional partners in the Cambodian market. Petrolimex Aviation has become a strong and prestigious brand at home and abroad, actively and proactively enhancing international integration, and actively participating in the world's aviation organisations such as ICAO, IATA, CAPA, JIG, etc.