Pjico ranks among Top 3 most prestigious non-life insurance companies 2019
Pjico was honoured as one of the Viet Nam's Top 10 most prestigious non-life insurance companies 2019 in a ceremony held in Ha Noi on August 8, 2019. The assessment was conducted and announced by Vietnam Report JSC.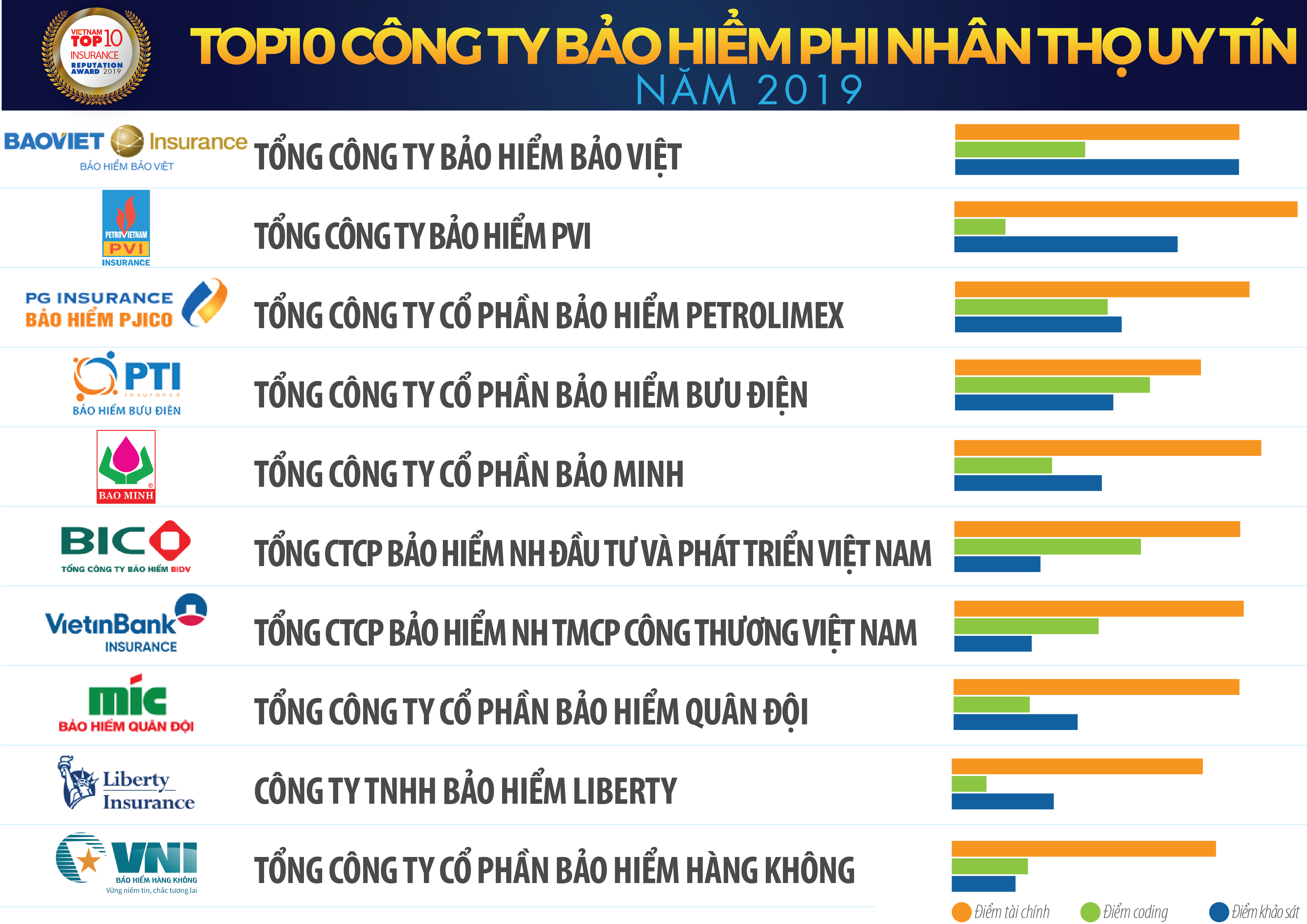 The Top 10 most prestigious non-life insurance companies 2019 by Vietnam Report shows Pjico has held onto third position.
According to Vietnam Report, the reputation of insurance companies is objectively and independently quantified, based on the results of corporate finance assessment, corporate prestige in the media by means of Media coding, and surveys of customers, insurance businesses and finance – insurance specialists.
Pjico's 2019 indicators of capital size, revenue growth, profitability, customer awareness of and satisfaction with insurance products/services as well as corporate prestige in the media were persuasive enough and worth to position Pjico in the rankings. The honour has been maintained continuously over the past four years by the Corporation.
Pjico is currently Viet Nam's leading insurance company in network expansion, product development, diversified distribution channels, and so forth, offering convenient products and services such as online insurance, customer care centre, hospital fee guarantee system, and 24/7 automobile rescue service among others.
Recently, Pjico has co-insured the two large fleets of aircraft of VietjetAir and Bamboo Airways and is the insurance consulting and selling unit for the first batch of Vinfast brand automobiles manufactured by Vingroup. This proves Pjico's partnership and insurance service capacity.
An important step towards customer service is that from July 2018, the Corporation has successfully put into operation the end-to-end insurance management software PREMIA. The software is an end-to-end integrated insurance solution that helps synchronise and professionalise all stages of customer service from insurance policy, claims management, reinsurance…
In accordance with Pjico's Q2/2019 financial statements, original insurance premium revenue was estimated at some VND1,452 billion (US$62.59 million), fulfilling 50% of the set target. Without counting the revenue from health insurance which witnessed sudden decrease in the beginning of 2019, Pjico's original insurance premium revenue from other products/services is expected to grow by 20 per cent over the same period of 2018. In 2018, the global credit rating agency AM Best assigned a Financial Strength Rating of B+ (Good), and a Long-Term Issuer Credit Rating of bbb- (Good) to Pjico. The upgrade prospects of both ratings are stable.