Petrolimex, Pjico & SFMI ink strategic cooperation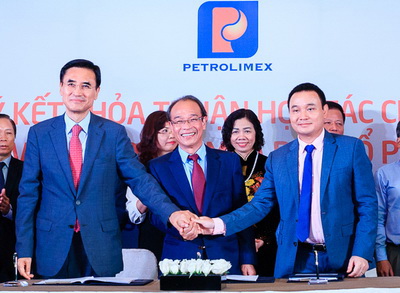 A signing ceremony for a strategic cooperation agreement between the Vietnam National Petroleum Group (Petrolimex), the Petrolimex Joint Stock Insurance Company (PG Insurance/Pjico) and Samsung Fire & Marine Insurance (SFMI) was held on May 5, 2017 in Hanoi.
Petrolimex Chairman Bui Ngoc Bao (centre), Pjico General Director Dao Hai Nam (right) & SFMI Chief Executive Officer and President Ahn Min Soo (left) sign the strategic cooperation agreement
The signing ceremony witnessed the attendance of Deputy Minister of Finance Vu Thi Mai, Petrolimex Chairman Bui Ngoc Bao, Petrolimex General Director Tran Van Thinh, Chairman of Pjico Board of Management Dinh Thai Huong, Pjico General Director Dao Hai Nam, SFMI Chief Executive Officer and President Ahn Min Soo, other leaders from Petrolimex, Pjico, SFMI, and representatives from the State Securities Commission of Vietnam, the Association of Vietnamese insurers, consulting firms, Pjico clients and partners.
Pjico General Director Dao Hai Nam said: "The strategic cooperation agreement between Petrolimex, Pjico together with the share purchase contract between Pjico and SFMI promise to be a great driving force for Pjico's growth and business performance in the next five years and beyond, affirming its position as one of the leading non-life insurance companies in Vietnam".
SFMI Chief Executive Officer and President Ahn Min Soo said: "With more than 60 years of experience in the non-life insurance industry, a global network and a leading position in the Korean market (with the A + + financial rating according to the A.M.Best rating agency and AA- by S&P), SFMI will provide valuable and practical experiences that contribute to the development of Pjico".
Pjico will issue more than 17.74 million individual shares to the strategic investor SFMI. The total value of the issue is over VND177.4 billion (US$7.8 million), equivalent to 20% of Pjico's charter capital.
As a result, Petrolimex will reduce its stake from approximately 51% to 40.95%. The Joint Stock Commercial Bank for Foreign Trade of Vietnam (Vietcombank) will reduce its ownership from 10% to 8.03%. The practice also reduces the ownership percentage of other shareholders from 37.77% to 23.19%.
The purpose of issuing individual shares to increase charter capital is to reinforce chances to participate in bidding for projects, increase retention for effective operations, invest in network expansion, and raise capital for investment activities. Additionally, increased capital will serve to raise the international credit rating and develop information technology system.