PLX: future price higher than opening day reference
Only two days left untilPetrolimex "makes its stock market debut". There will appear a new code named PLX on Vietnamese stock market.
The event is of significance not only to generations of Petrolimex staff. Also Petrolimex existing and potential investors/shareholders are looking forward to thegong soundsignifying the start of the first order matching of PLX on the Ho Chi Minh City Stock Exchange (HoSE).
On this occasion, the Cong Thuong(Industry & Trade) magazine speaks to Petrolimex Chairman Bui Ngoc Bao: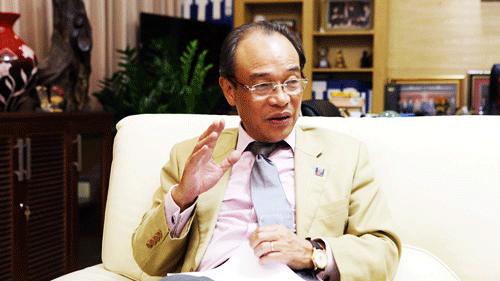 PLX is officially listed on stock market on April 21, with reference price being VND43,200/share
The Industry & Trade (IT) magazine: Could you please reveal when the PLX stock will officially be listed on HoSE and how much the starting price is?
Bui Ngoc Bao: It can be said that all procedures for PLX to be listed on stock market have been completed. We have publicised information on the website www.petrolimex.com.vn and on publications of a popular press agency continuously for three days in accordance with the law.
In the Announcement No 0489/PLX-HĐQT dated April 17, 2017 we announced the reference priceat VND43,200/share and the range of prices in the first trading day being +/-20% against the reference price. We also made public the full prospectusof Petrolimex so that existing and potential shareholders have information to study before the PLX's first trading day on stock market on April 21.
On April 14, 2017 HoSE also issued DecisionNo 126/QĐ-SGDHCM and Announcement No 481/TB-SGDHCM on PLX listing and first trading. The Announcement No 481 by HoSE also mentions parameters as mentioned above.
IT magazine: What is the basis for Petrolimex to determine the floor price of PLX stock?
Bui Ngoc Bao: At investment funds' meetings, roadshows and press interviews, I made it clear that PLX will follow the market, but it is certain to be higher than the actual price of shares sold to strategic shareholder JX.
Additionally, we also studied the consultant's opinions and the implementation of the rights of existing shareholders in recent years as well as Petrolimex's audited business results in 2015 and 2016, finding that the business performance in the first quarter of 2017 is relatively positive whereas shareholder rights are guaranteed and increasingly incremental.
Petrolimex is a strong economic group of Vietnam with an internationally recognised trade name, long history of development and an aspirationto take you further. Investors and the market will recognise our efforts and corporate value of Petrolimex.
Future price higher than opening day reference price
IT magazine:As reported, the PLX share on the OTC market was over 5.0 but hard to buy because of the scarcity of sellers. How many points zero you predict for PLX after its official listing on stock exchange and how about the supply? Will Petrolimex sell out all treasury stocks or follow the roadmap to serve the Group's big projects?
Bui Ngoc Bao: Everyone has their own plans: especially investors, securities companies and even within enterprises there are certain plans.
Once "listed on stock market", they all need to abide by the market mechanism which means: their activities, their standards must be recorded and values are demonstrated through transactions.
With the existing standards and business performances of Petrolimex we are convinced that: the future price will surely be higher than the start price of the opening day.
As for the use of treasure shares as well as the increase of corporate capital, it is completely dependent on the need to use capital.
Treasure shares as well as increased capital or the sale of State capital all depend entirely on the process and roadmap of capital needs of the enterprise.
At present, Petrolimex financial capability is pretty good, ensuring that the Group's business organisation in 2017 and in the coming years is stable and effective and ensuring the effective use of capital contributed by shareholders.
IT magazine: When will Petrolimex be listed on Singapore's stock exchange? What are differences between the HoSE and Singapore's stock exchange regarding procedures and standards?
Bui Ngoc Bao: Companies that intend to list their stocks on the world and regional stock exchanges have a desire for capital mobilisation and liquidity of the stocks.
During the regional and international integration of Vietnam in general and of Petrolimex in particular, it is expected that the stocks will be valued according to the market mechanism but be internationalised.
However, when and where the stocks are listed must surely be associated with capital needs, needs and objectives of the business when listed on that stock exchange.
As for Petrolimex, based on the need to mobilise a large amount of capital, the standards Petrolimex register on the HoSE are the highest on Vietnam's stock market.
Currently, Petrolimex continues its efforts to make the corporate governance meet the international standards in accordance with standards of stock exchanges of other countries.
Advice to Petrolimex staff and PLX investors
IT magazine: What advices do you have for retail investors; particularly Petrolimex employees who are eligible to buy shares under the State preferential policies and bought shares under auction when Petrolimex issued the first batch with VND15,100-15,300/share?
Bui Ngoc Bao:After equitisation, the petroleum business remained challenging due to unpredictable fluctuations of the world oil petrol prices but Petrolimex's commitments to investors at Annual General Meetings of Shareholders were seriously fulfilled. It is proved that the value as well as operation of Petrolimex is sustainable and transparent.
Investors have the right to make the highest decision on the number of shares they hold and own.
As a business leader and a private investor, my advice for Petrolimex employees who bought PLX shares under the State preferential policies or under auction upon the initial public offering (IPO) of PLX shares is to: Consider these as long-term investments to maintain their attachment to the enterprise. This is also what the State management bodies desire and therefore design preferential policies which take into consideration employees' years of dedication once the enterprise is equitised.
IT magazine: Following its listing on stock market, is there anything new in the development policy of Petrolimex?
Bui Ngoc Bao: Petrolimex is being restructured under a State-managed mechanism with the ultimate goal being to rearrange the corporate organisation to increase business outcome as well as benefits of investors.
Petrolimex will continue promoting its core values, sticking to its strategy to make the business develop more and more sustainably.
This is a commitment that the Petrolimex leaders made to all PLX investors and shareholders.
IT magazine: At a roadshow with existing and potential investors, you announced that Petrolimex would accelerate the trading of non-petroleum goods/services, targeting to achieve a 50/50 ratio. So what is the current ratio? Which solutions does Petrolimex take to achieve the expectation of 50/50?
Bui Ngoc Bao: First of all I want to make it clear and precise that: "50/50" is about profit, not revenue.
Petrolimex's infrastructure, especially petrol stations which are situated in convenient locations, allows Petrolimex to create non-petroleum additional activities.
Petrolimex set an orientation in which: profit structure on one store consists of 50% from petroleum trading and 50% from other business activities. It's profit, not revenue.
We expect that in the near future Petrolimex will achieve such a structure because the goods/services that Petrolimex provides to the society always win consumers' trust and affection.
What matters most is the internal organisation, creating the connection and driving force for the whole contingent of leaders, specialists, workers, socio-political organisations within the enterprise make every effort to realise that goal.
In addition, Petrolimex has done a thorough research, and worked with domestic and foreign investors to promote non-petroleum services on the basis of creating service chains on almost all of its 100% owned stations as well as expanding into Petrolimex's franchise businesses so as the practice is consistent and efficient.
IT magazine: Petrolimex targetted to promote the internal link to enhance labour productivity and business efficiency; which has brought about many positive effects in the past years. However, so far only petroleum companies have distributed goods/services provided by corporations/specialised companies. Has Petrolimex promoted link among corporations/specialised companies so as they distribute each other's products?
Bui Ngoc Bao: The organisation of certain commodities depends on the professionalism of each industry.
Petrolimex has quite a few corporations operating in fields related to petroleum but their pillar is still the system of petroleum companies which have advantages in technical facilities including petrol stations.
Petrolimex consistently views petroleum as the mainstay for other commodities to be traded alongside for added value, but we also took great precautions before launching intermodal trading businesses in which enterprises can distribute each other's products.
If the conditions are not sufficiently converged to provide good services for customer, these activities are discouraged and will not be expanded into the whole system.
IT magazine: Which message would you like to convey to shareholders ahead of the Annual General Meeting on April 25, 2017?
Bui Ngoc Bao: 2016 was a successful year for Petrolimex and one of the significant transitional years for the Group to implement the plan for the following five years.
The Petrolimex leadership would like shareholders and investors to always believe in resolutions of the Annual General Meeting of Shareholders.
The coming Annual General Meeting of Shareholders on April 25 will be well organised with announced contents.
Besides efforts of the whole Petrolimex staff, Board of Directors, and Board of Management; Petrolimex also needs general voices from all shareholders from all walks of life, in all areas of interest to PLX shares to facilitate Petrolimex to overcome difficulties, exceeding the set plan and the Resolution of the coming General Meeting to be passed on April 25, 2017.
Petrolimex is a Vietnam's economic group and we will continue to work together for successful international integration to take you furtherin the international arena.
Same category