Petrolimex Aviation to fly high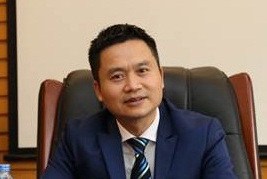 On the threshold of the lunar New Year 2017, Petrolimex General Director Tran Van Thinh conveyed a meaningful message "Let's race against time" to all the firm's staff, opening a new competition movement within Petrolimex. On this occasion, Petrolimex Aviation General Director Pham Van Thanh speaks to the Cong Thuong (Industry and Trade) magazine about an industry which is still in its infant years but well-prepared to "take the initiative" in a newly-emerged area of Petrolimex.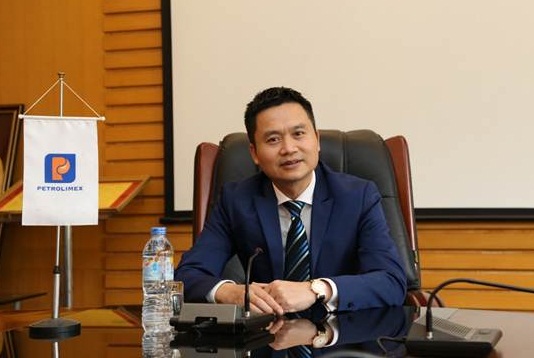 Petrolimex Aviation General Director, Pham Van Thanh, speaks to the Cong Thuong(Industry & Trade) magazine
Efforts bear fruits
Latest figures show that Petrolimex had an efficient performance in all seven areas in 2016. And Petrolimex Aviation emerged as a new bright star in the Petrolimex "sky". Could you please provide a thumbnail description of the company's achievements?
Actually speaking, we did obtain encouraging achievements in 2016, which demonstrates the non-stop efforts of the whole Petrolimex Aviation staff over the past years.
We sold over 600,000cu.m of aviation fuel Jet A-1, safely and punctually supplied fuel for 71,000 flights of more than 30 local and foreign airlines, and contributed over VND1 trillion (US$43.8 million) to the State budget, ensuring the interest of shareholders and being a factor in Petrolimex's gains in 2016.
After two years of investment and completing procedures, Petrolimex Aviation officially began its first supply in the Tan Son Nhat International Airport in 2010. Then we could only supply approximately 100,000cu.m a year. Initially operating in the Tan Son Nhat International Airport, Petrolimex Aviation now has five branches based in the country's five largest airports: Tan Son Nhat, Noi Bai, Da Nang, Cam Ranh, and Cat Bi.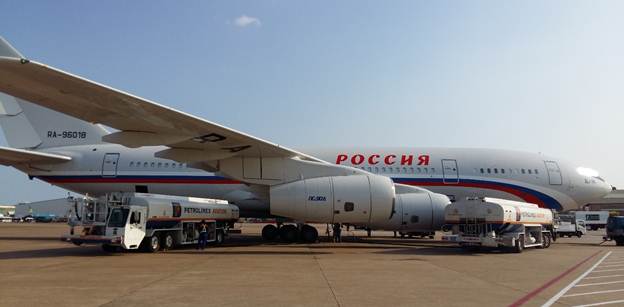 Petrolimex Aviation supplies fuel for flights of the Russian Airlines, Aeroflot, at the Noi Bai International Airport on April 5, 2015. The flights carried Russian Prime Minister Dmitry Medvedev and diplomats on a visit to Viet Nam.
We supply aviation fuel not only for flights in Viet Nam but also for flights in other countries and territories including South Korea, China, India, Myanmar, Taiwan, Japan, Hong Kong, Thailand and Cambodia.
It can be said that Petrolimex Aviation is an enterprise that takes the initiative in a completely new area of Petrolimex. Overcoming challenges including a synchronous shortage of material facilities, human resource and experience during early days, Petrolimex Aviation has gradually completed the aviation fuel supply system satisfying strict and detailed international criteria in quality, technique, technological system, management, safety and security while facing competition from suppliers that have been working in the industry for years and from new suppliers in the Viet Nam market.
We are pretty proud of such initial gains. As far as I'm concerned, it is the right vision and orientation of the Petrolimex leadership, efforts of nearly 300 Petrolimex Aviation staff, support from Central and local bodies, and trust of Vietnamese and foreign partners in Petrolimex brand that made the achievements possible.
Difference between the earth and the sky
Aviation fuel is in fact a type of petroleum-based fuel – a commodity traded in accordance with the Government's Decree 83/2014/NĐ-CP; but its trading price and condition defined in commercial contracts must accord with international standards and rules in the sector. Could you please elaborate on such difference?
Yes, that is the difference between earth and the sky.
Aviation fuel and aviation fuel traders are the two subjects of application of the Decree 83/2014/NĐ-CP on petrol and oil trading. However, aviation fuel is different from other types of petroleum as its trading price and conditions must comply with international standards and rules.
Another difference is that it is not always possible to sell aviation fuel to airlines whenever it is available. In the process of transacting and signing contracts, customers always pay special attention to the international standard of technical and material facilities, devices and technology, management and control/supervision of the quality of fuel and human resources.
Based on strict assessments of large aviation organisations, airlines, and petroleum firms in the world, Petrolimex Aviation has gradually built up customers' trust in the quality of aviation fuel supply, creating a market share gradually but sustainably.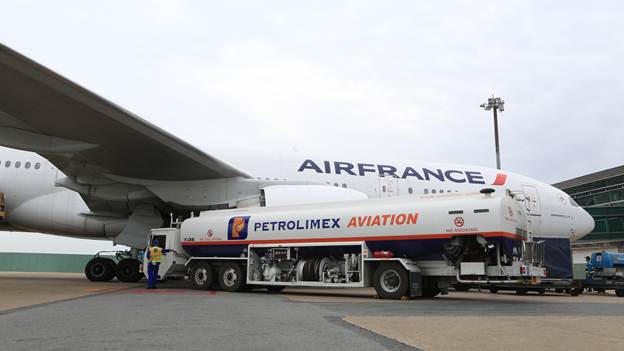 Petrolimex Aviation supplies Jet A-1 for an Air France aircraft at the Tan Son Nhat International Airport
That is a tough question but we do solve it through production and trading results. Petrolimex Aviation has optimised investment projects, streamlined the system, reduced cost, and created a competitive advantage.
Overcoming initial hardships, Petrolimex Aviation has signed a large number of deals, contracts to supply fuel for Vietnamese and international airlines. That is the prestige of and trust in our brand name.
Could you please reveal Petrolimex Aviation development orientations and major solutions in the time to come?
Succeeding achievements made in the past years, especially in 2016, the Petrolimex Aviation management board continues pursuing targets to be one of Viet Nam's leading suppliers of aviation fuel in the direction of an effective – safe – quality – sustainable operation with the aim to affirm the position, image, and brand name of Petrolimex Aviation in particular and contribute to increasing the value of letter "P", especially when Petrolimex is to list shares on a stock exchange in the first quarter of 2017.
Petrolimex Aviation supplies Jet A-1 fuel for a VietJet Air airplane at the Cat Bi International Airport
To that end, Petrolimex Aviation always pays due attention to:
First,to enhance business efficiency. We emphasise on all stages from creating sources, signing contracts with big and prestigious suppliers in the market, seeking for sources of quality goods offered at the lowest possible price through a competitive bidding process; enhancing co-operation, and support from units in the sector, particularly petroleum member companies under Petrolimex in order to take full advantage of warehouses and infrastructure.
We also focus on cost management, strict and effective investment; and on completing and improving the management process, the management capability, especially system management, and the management of the quality of goods and services.
Second, to ensure safety and security.We continuously and specifically increase the awareness of each labourer, and carry out training and re-training to improve labourers' professional qualification to meet work requirements.
Third, to focus on developing markets and customers. We maintain fine relationship with strategic partners, and make adequate pricing policy to ensure the interests of customers and benefits for the Company.
Fourth, to expand investment. Petrolimex Aviation will establish new trading locations, build a modern system of material facilities and a contingent of officials and labourers of high professionalism and responsibility meeting the increased demands of the market.
To reach the set targets, Petrolimex Aviation is in need of concrete guidance from the Vietnam National Petroleum Group (Petrolimex) leadership; the support of Central and local bodies; the close co-operation from Petrolimex member companies in Viet Nam and abroad; the trust of shareholders and partners, fellow traders, and customers in 2017 and the coming years.
For Petrolimex Aviation itself, the whole staff the Company will continue making every effort to raise against the time"to take it further".
At the beginning of the lunar Year of the Rooster, we are convinced that with the international economic integration and the determination of a tectonic government, Vietnamese businesses will fly high together in the time to come.
Under the direction of the Petrolimex Board of Management, the Petrolimex Aviation Fuel JSC (Petrolimex Aviation) was established in 2008 with an initial chartered capital of VND150 billion (US$6.6 million) and with the participation of founding shareholders being the Vietnam National Petroleum Group (Petrolimex), the Military Petrochemical Company (Mipec), the Petrolimex Group Commercial Joint Stock Bank (PG Bank). In 2010, Petrolimex Aviation started supplying aviation fuel to Viet Nam and international airlines' airplanes landing in Viet Nam after two years of investment and procedures.
In 2016, Petrolimex Aviation yielded encouraging outcomes, deserving to be a "bright star" in the "Petrolimex sky".
Same category