Piacom & LSFC's EGAS – ERP go live
On January 5, 2017, the Lao State Fuel Company (LSFC) organised a go-live ceremony to officially put into operation the management software system EGAS - ERP provided and deployed by the Petrolimex Information Technology and Telecommunication JSC (Piacom) in Vientiane capital, Laos.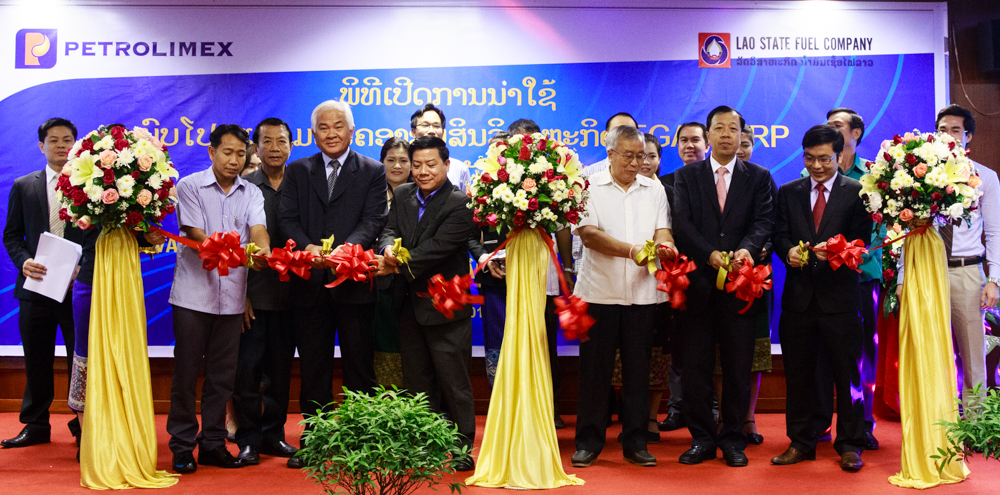 Piacom Deputy Director Tran Ngoc Tuan, LSFC Deputy Director and Project Director PhayBoun Phomphaphithak, and representatives of some Lao State management bodies cut the ribbon for the official launch of the EGAS-ERP system
LSFC is one of enterprises that take the lead in applying science and technology in business management. Since early 2000, LSFC deployed the Business Process Management (PBM) software supplied and operated by Piacom. The software has accompanied LSFC since then.
The application of EGAS-ERP will help LSFC meet increasingly high management requirements under the context of international economic integration, with specific features as follows:
- To meet standards on accounting and law in Laos.
- To be flexible; to be adjustable to meet management changes, without being tied to the management model.
- To control operations of the end users – who directly process perform data.
- To facilitate adequate gradation and decentralisation to put the right person in right work.
- To allow the close of data book in accordance with accounting period.
- To allow users to exploit data which have been upgraded once (and is upgraded only once) without time and space limit.
- To ensure that the change of organisation model of management is not relied on technology.
- To ensure the linkage of data within LSFC (Company - Branch - Warehouse – Petrol Station).
- To be able to restore the system (application and data) quickly and easily in case of an incident.
- To ensure the perfectness and consistency of data.
The project's milestones:
• January 19, 2016: Piacom and LSFC signed the "Supply and Implementation of enterprise resource planning software" contract to put into use the EGAS_ERP system at the headquarters, seven branches and 19 warehouses including warehouses serving road and air transport, warehouses containing lubricants, and warehouses containing liquid petroleum gas (LPG). The project completely complies with a five-stage ERP implementation process: Project preparation -> Business blueprint -> Realisation -> Final Preparation -> Go-Live and Support.
• February 17, 2016: the two companies kicked-start the project in order to determine implementation strategies; overall schedule and implementation order; and resources preparation for the project. As a result, a joint Piacom and LSFC project team was established with 31 members working in professional and technical fields, and information and technology infrastructure.
• On the basis of the successful implementation of the SAP_ERP project by the Vietnam National Petroleum Group (Petrolimex), the project team put forward a general plan, possible risks that need to be managed; and methods for work exchange, and dealing with language difference between Vietnam and Laos.
• After eight months of survey, analysis, discussion, and unanimity reached by the two sides with engineers' consultancy and equipment supplied by Piacom; LSFC technical infrastructure was completed, setting foundation for the following stages of building and establishing the system.
• Within ten days from November 15-25, 2016, as many as 91 scenarios testing the system proved successful and were accepted. Up to 43 LSFC staff members took part in a training course designed for handover and experimentation activities.
• By December, 2016, the software system was installed at the LSFC's central host computer server; standardised and integrated with the whole Master Data in Lao language. Users at the whole system of LSFC branches and warehouses were trained by LSFC's key users under the assistance of Piacom.