Petrolimex business conference 2019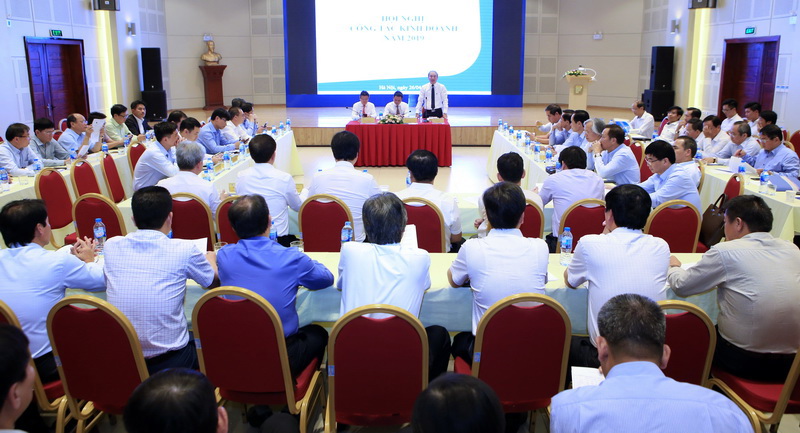 The Vietnam National Petroleum Group (Petrolimex/PLX/Group) organised the business conference 2019 at its headquarters on No 1 Kham Thien St, Hanoi on April 26, 2019
.
Petrolimex Chairman Pham Van Thanh, Management Board member – Director General Pham Duc Thang, and Management Board member – Deputy Director General Tran Ngoc Nam presided over the event which also witnessed the attendance of representatives of the Group's Party Committee, Board of Management, Board of Directors, and Vietnam Petroleum Trade Union, and heads divisions/departments and Chairman/Directors of Petrolimex member companies.
The conference aimed to thoroughly grasp 2019 production and business plans recently approved by the Annual General Meeting (AGM), and accelerate the implementation of solutions to fulfill and outperform targets set in the Decision No 131/PLX-QĐ-HĐQT dated March 29, 2019 despite impacts that Petrolimex understood it must confront in the coming time:
* The competition among 28 traders and more than 200 distributors nation-wide will lead to a surge in the number of petrol stations.
* The infringement of Petrolimex trademark is still going on complicatedly and tends to increase.
* Market structure and domestic goods movements exert impacts on source generation.
* Proper sales policies and mechanisms in line with petrol station development strategy.
Overall assessment of the Q1/2019 shows that the Group's production and business activities were relatively good, sticking to the plan and reporting year-over-year growth on all targets set for the petroleum and non-petroleum areas.
The recent market developments indicate the fact that in order to maintain stable development and comprehensively fulfill the 2019 plan, the role of the leader from the Parent Company to each member company in early detection of challenges and severe and synchronous implementation of solutions is crucial.
With a high consensus of the Annual General Meeting 2019, Petrolimex Board of Management will focus on effectively managing all resources based on the Key Performance Index (KPI) applied in the whole system and the ERP-Egas system; at the same time, developing appropriate business processes and regulations, strictly complying with legal provisions on the principle of capital preservation and development, and enhancing transparency of a large-scale public joint stock company.
In its management work, the Group leadership thoroughly understand and concretise key instructions by the Government, Committee for Management of State Capital and Ministry of Industry and Trade; continue promoting strengths of Petrolimex, building successful competitive advantages, improving business performance and increasing consolidated profits.
Addressing the conference, Petrolimex Chairman Pham Van Thanh valued production and business results the whole Group achieved in the first quarter of 2019 under the influence of both advantages and disadvantages. The Petrolimex chairman believes that despite the last three quarters of 2019 witnessing difficulties and challenges to the national macroeconomy in general and the petroleum sector in particular, the Group leadership and whole staff are determined to maintain the Group's identity and leading position to develop Vietnam petroleum market, ensuring social security, national defence and sustainable growth; drastically enforce commitments to shareholders, partners, and customers both at home and abroad.