CMSC chairman visits PLX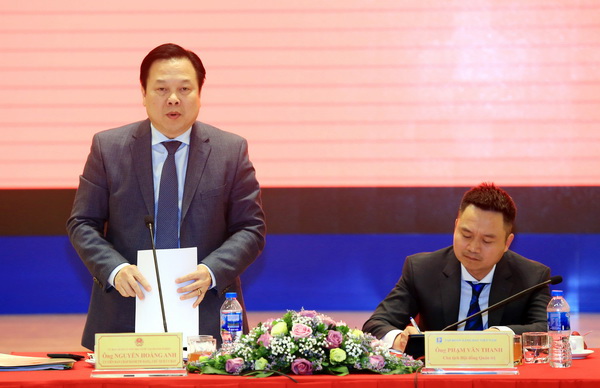 The Chairman of theState Capital Management Committee (CMSC/Committee) Nguyen Hoang Anh made a working visit to theVietnam National Petroleum Group (Petrolimex/PLX).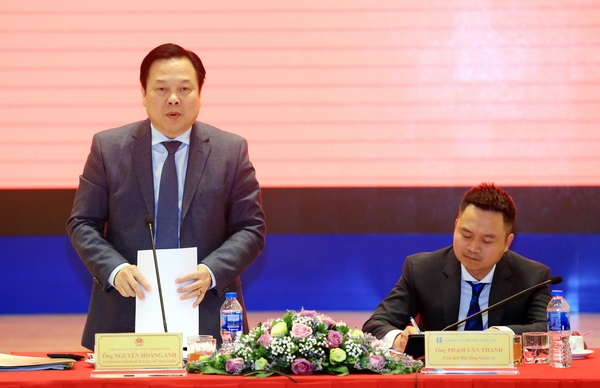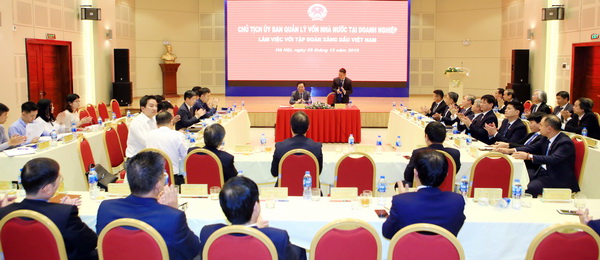 CMSC chairman Nguyen Hoang Anh presides at the meeting at PLX, No 1 Kham Thien St., Hanoi
Led by CMSC chairman Nguyen Hoang Anh, the delegation included CMSC deputy chairman Ho Sy Hung, and leaders of the departments of Industry, Personnel Organisation, Legal Affairs – Internal Control, and General Affairs; and Information Centre; General Office; and leaders' secretariat.
PLX chairman Pham Van Thanh, PLX director general Pham Duc Thang, members of the Board of Management and Board of Directors; Party Committee, Trade Union; leaders of specialized corporations and petroleum companies representing regions, and heads of divisions and departments held a reception for and met with the delegation.
Speaking at the meeting, the PLX chairman made a detail report to the CMSC chairman onPLX production and business outcomes of the first nine months of 2018, projected outcomes for the whole year 2018, plan for 2019, domestic and international market developments, and development orientations for the years to come; and made certain recommendations to CMSC, the Government and other State management bodies.
During the meeting, participants shared information on CMSC's viewpoints and directions, clarified the factual bases and arguments of PLX's recommendations as well as contents that PLX would like to seek for CMSC's support for the enterprise's development in the coming time as well as expectations of the whole PLX leadership and employees.
Addressing the meeting, CMSC chairman Nguyen Hoang Anh acknowledged achievements that PLX gained in the past 62 years; highlighting the fact that PLX has always been innovative and creative in governance and management, and taken the lead in implementing the Party and Government policies on equitisation, corporate restructuring, listing on the stock exchange, launching new products (E5, RON 95-IV&DO 0,001S-V), creating oriented and selective cooperation and development orientations with practical results; building a contingent of employees with good identity and responsibility towards society; and successfully building its brand reputation in the market as well as for State management bodies.
The CMSC chairman reiterated thatthe Committee and enterprises must actually be on the same pagein learning about the actuality and specialised knowledge; and shouldn't be complacent about achievements, but should be cautious in building development strategies; because "only right direction, right solutions together with efforts of the whole staff will bring about success".
With its role in corporate capital management, CMSC will act as the voice of enterprises to inform the Party, the Government and State management bodies of the enterprises' reality to soon realiseResolution 12;contributing to the socio-economic development and international economic integration.
Additionally, enterprises should be proactive in developing new products, bringing into full play their comparative advantages and internal strengths on the market basis and in compliance with the provisions of law, international treaties to which Vietnam is a signatory.
At the end of the meeting, CMSC chairman Nguyen Hoang Anh sent his congratulations and thanks to all PLX staff and labourers of various generations for having contributed their efforts and knowledge to fulfilling their mission through periods of time; and wished PLX would continue developing strongly and successfully, deserving theposition & prospectthat it has created over the course of 62 years.