Petrolimex, VNR comprehensively cooperate for "taking you further"
The Vietnam National Petroleum Group (Petrolimex) and the Vietnam Railways Corporation (VNR), the two units of the Party Committee of Central Business Block, signed a comprehensive cooperation in production and business at the Conference Centre, 37 Hung Vuong, Ba Dinh, Hanoi on July 28.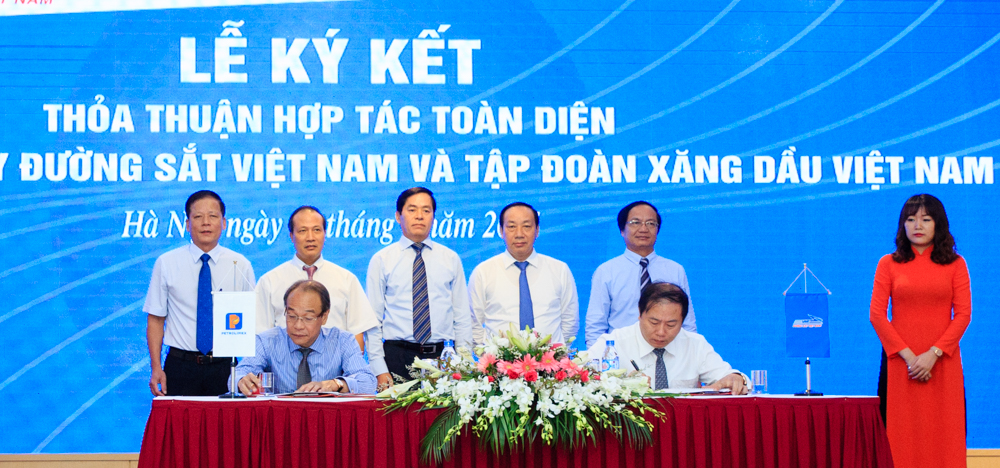 Chairman of Petrolimex Management Board Bui Ngoc Bao and VNR Chairman Vu Anh Minh sign the comprehensive cooperation agreement
This is a practical deed in response to the Party's and Government's "Vietnamese use Vietnamese goods" campaign as well as the direction of the Central Business Block Party Committee calling for "Enterprises, unit in the Block prioritise using each other's products and services". On the basis of previously-agreed business cooperation and consumption of goods and services, the comprehensive cooperation will create favourable conditions for Petrolimex and VNR to continue exploiting and effectively utilising advantages of facilities, products and services. Accordingly, the two sides concurred with setting common goals in following cooperation areas:
- First: Cooperate for investment into the supply of petroleum products, petrochemicals, transport services and other services including banking and insurance.
- Second: Enhance the effective usage of VNR facilities and expand the retail network of Petrolimex petroleum and other convenient services.
- Third: Bring into full play the strength of each side in order to improve efficiency in the implementation of production and business tasks.
With specific targets mentioned-above and thorough study of facets and available advantages, Petrolimex and VNR agreed about sustainable and long-term cooperation in particular areas as follows:
(1) The supply of petroleum and petrochemical products: VNR prioritises using petrol supplied by Petrolimex provided that the latter guarantees quality and reasonable competitive prices.
(2) Transport services: The two sides will study to strengthen and expand cooperation in this area. In the time to come, Petrolimex and VNR will focus on studying the capability of connecting railway transport with warehouses and depots.
(3) Investment into petroleum business: The two sides studied VNR infrastructure and chose suitable locations for the setting up of petrol stations.
(4) Banking and financial services: The two sides study the model of selling railway tickets through the network of petrol stations and transaction offices of the Petrolimex Group Commercial Joint Stock Bank (PGBank).
(5) Insurance: Based on the existing cooperation, the two sides will study to promote and expand of cooperation with more varieties of products in the coming time.
(6) Communications: Petrolimex and VNR cooperate to disseminate and promote each other's brand through means of communications and material facilities managed and owned by each side.
(7) Other areas: The two sides keep studying and propose effective solutions for cooperation, upholding strengths in every potential field of each side.
With the scale, capacity and experience of cooperation in production and business activities of each side, the comprehensive cooperation will enable Petrolimex and VNR to maximise advantages and ensure the stable, effective and long-term development in production and business.
For further information, please contact:
Mr. Do Quoc Chinh – Deputy Head of Public Relations Division, Petrolimex.
Mobile No: +84 919 268 686 Email:chinhdq@petrolimex.com.vn.
Mr. Do Hong Lam – Deputy Chief of Office, VNR
Mobile No: +84 948 913 868 Email: lam6394@yahoo.com.vn