41 banks' ATM cards can be used at Petrolimex petrol stations
Hanoi – On July 26, 2017, the Vietnam National Petroleum Group (Petrolimex), the National Payment Corporation of Vietnam (NAPAS) and Petrolimex Group Commercial Joint Stock Bank (PG Bank) organised a signing ceremony for cooperation and announced the successful connection of payment service by ATM card via PG Bank's POS (Point of sale) machines located insidePetrolimex petrol stationsnationwide.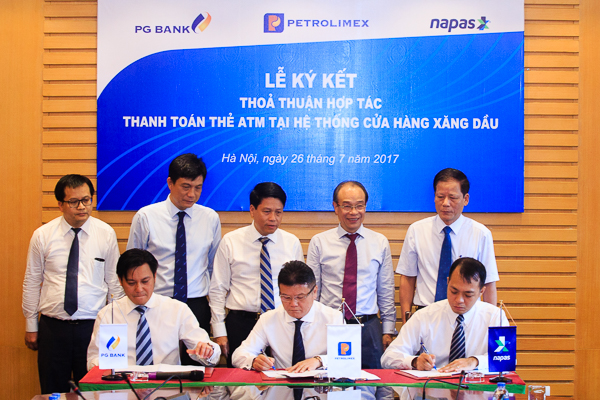 Accordingly, as of August 1, 2017, ATM card holders of 41 member banks of NAPAS can make payments for Petrolimex goods/services at the Group's petrol stations across the country.
Chairman of the Management Board of Petrolimex, Bui Ngoc Bao said: "With the aim of building a system of modern and civilised petrol stations, the cooperation with NAPAS is a significant programme for Petrolimex to enhance service quality at petrol stations, improve management and transparency, and help customers make payments quickly and easily. This is also the general trend of the Industry 4.0 era which promotes the development of non-cash payment in Vietnam. The payment model offers advantages not only for businesses and banks, but also for customers who will first enjoy benefits from conveniences provided by parties involved."
According to the National Traffic Safety Committee's report for the first six months of 2017, Vietnam has currently 3,175,136 cars and 48,354,710 motorbikes. A large number of these vehicles are using Petrolimex petrol. Due to the convenience of ATM cards, the use of ATM cards to purchase petrol will give users numerous advantages as follows:
No need to keep cash on hand.

Quick and safe transaction.

Card holder can manage fuel expenses through bank card statement.

Customers are eligible for promotion and discount programmes.
NAPAS Deputy Director General Nguyen Dang Hung said: "As a provider of financial switching infrastructure for all major banks and businesses in Vietnam, NAPAS really expects that the payment interconnection using local cards issued by member banks with Petrolimex petrol stations is a bright spot in promoting the non-cash payment roadmap as directed by the Prime Minister. Through this event, we do hope that domestic card-based payments will become more familiar with customers."
In order to purchase petrol via ATM card at Petrolimex petrol stations, customers only need to hold an ATM card belonging to one of 41 NAPAS member banks provided the card is still valid and remaining account balance is sufficient to pay for the goods. The cooperation between Petrolimex and NAPAS member banks will surely bring about lots of interests and conveniences for customers, making positive contributions to implementing the Party and State policies.
Petrolimex
Contact person: Mr Do Quoc Chinh – Deputy Head of Public Relations Division
Mobile No: +84 919 268 686 / Email: chinhdq@petrolimex.com.vn
PG Bank
Contact person: Ms Duong Thi Thuy Linh – Head of Marketing and Communications Division. Mobile No: +84 904 040 041 / Email: linhdtt.pgbank.petrolimex.com.vn
NAPAS
Contact person: Ms Hoang Hai Nhung – Media and Communications Division. Mobile: +84 906 018 080 / Email: nhunghh@banknetvn.com.vn