Vietcombank, Petrolimex sign comprehensive cooperation agreement
On December 12, 2022, the Joint Stock Commercial Bank for Foreign Trade of Vietnam (Vietcombank – stock symbol: VCB) and the Vietnam National Petroleum Group (Petrolimex – stock symbol: PLX) signed a comprehensive cooperation agreement.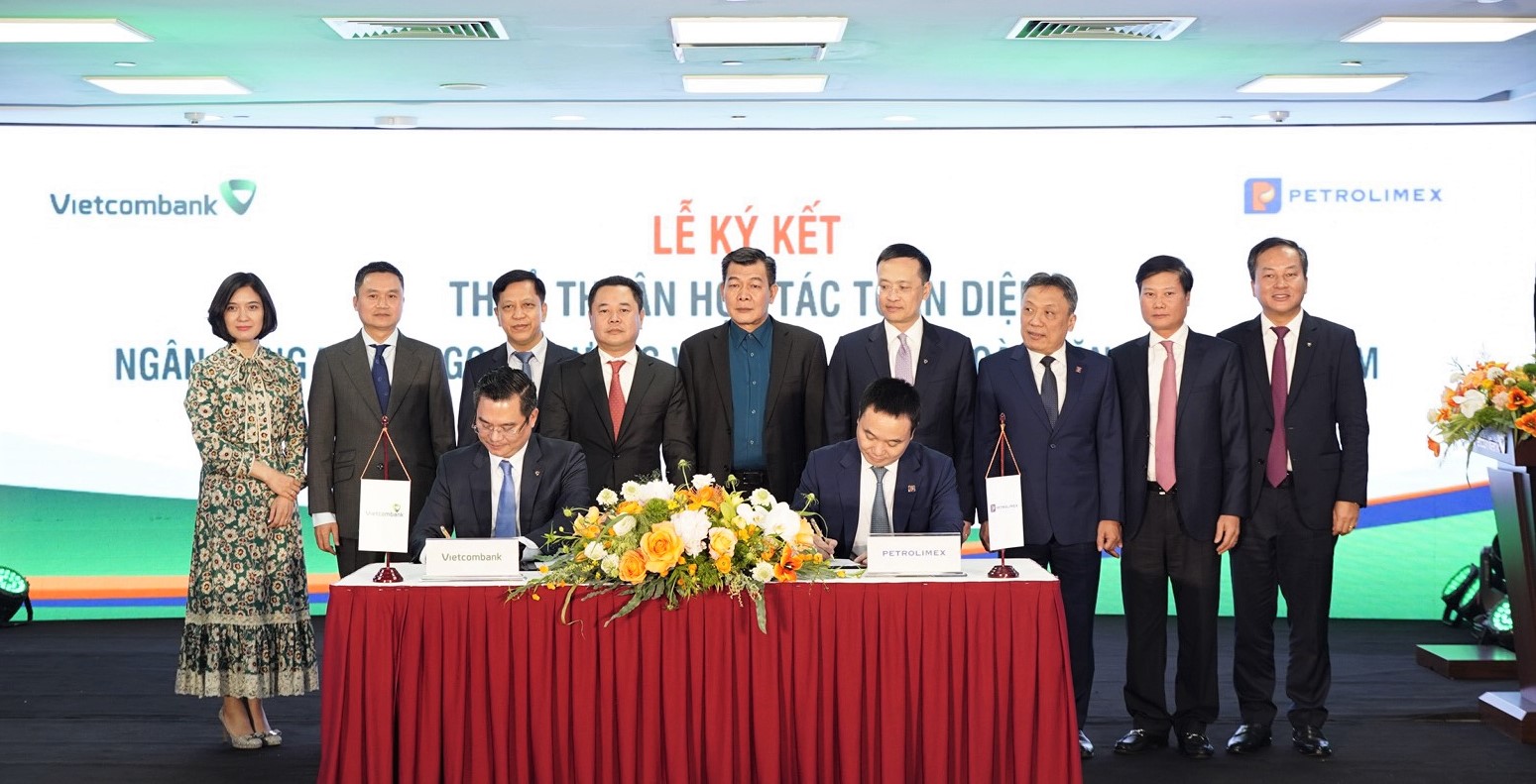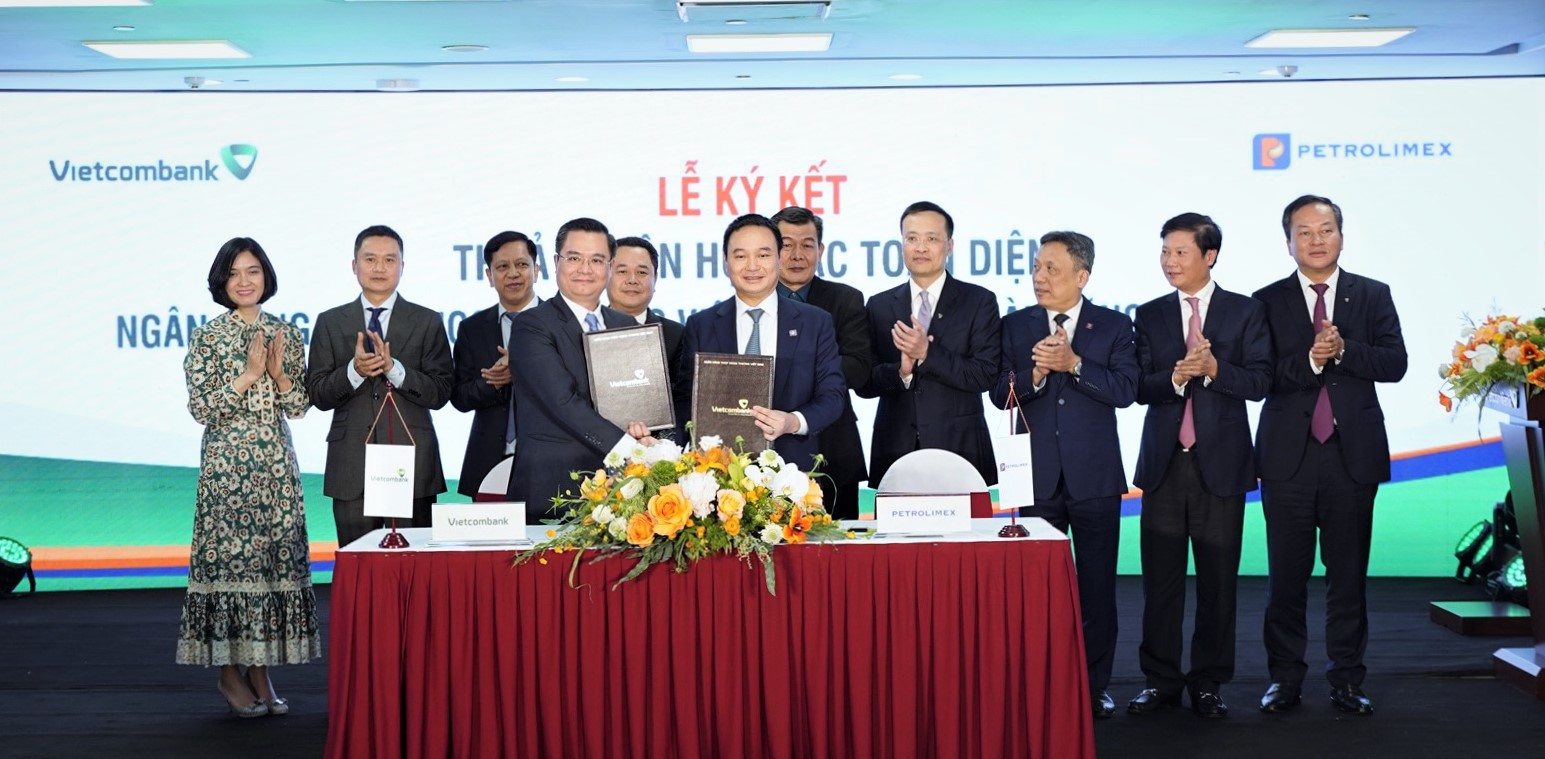 Under the deal, Vietcombank and Petrolimex agreed to prioritise the use of each other's products and services on the principle of efficiency, mutual benefit, and compliance with legal regulations, without affecting the agreements which either Vietcombank or Petrolimex has signed with their partners, with the aim to increase values for customers, partners and shareholders as well as the development of both sides.
Accordingly, Petrolimex will consider the use of products and services provided by Vietcombank, including: Payments and cash flow management; International payments and trade finance; Foreign exchange and capital market; Credit finance; Retail banking and investment banking.
Vietcombank will consider the use of products and services provided by Petrolimex, including: the supply of fuels for Vietcombank's fleet vehicles at all Petrolimex's filling stations; and other services and products such as insurance, lubricating oils and gas, among others.
In addition, both signatories will jointly study products and services for potential business cooperation in the fields of non-banking finance, issuance of co-branded cards, and optimisation of each other's customer portfolio. 
Addressing the signing ceremony, Vietcombank Chairman Pham Quang Dung said over the past 60 years, Vietcombank and Petrolimex have always maintained long-term effective and practical cooperative relations, especially in the fields of Vietcombank's strengths such as international payments, foreign exchange and credit. Vietcombank is also honoured to contribute to the development of Petrolimex through its role as an important partner in financing large projects for Petrolimex and its member companies, ensuring capital flows and foreign currency for import demand, satisfying the demands for energy of the economy. The comprehensive cooperation agreement 2022 will further accelerate the cooperation and elevate the relations to new height with the aim to optimise each other's potentials, enhance each other's operational efficiency and contribute to the national socio-economic sustainability.
Petrolimex Chairman Pham Van Thanh said: "This is a very important event, marking a new development in the mutual cooperation and serving as a premise for  both sides to continue lifting the relations in the coming time. During nearly 67 years of growth and development, Petrolimex has gained numerous impressive achievements, becoming a large-scale and key economic group, ensuring the national energy security and contributing to the Government's efforts in macroeconomic stabilisation. On these journeys, Vietcombank has always been a crucial partner that cooperates and shares benefits with Petrolimex. Sharing a common vision towards the future, optimising advantages to add values, Petrolimex and Vietcombank wish to elevate the relations to a comprehensive partnership, with mutual cooperation increasingly practical. The two sides expect to maximise each other's strengths and support each other for sustainability, concurrently, making much more contributions to the national socio-economic development goals in the new stage."
On the occasion, Vietcombank pledged to arrange a credit package worth VND25 trillion (US$1 billion) for business and production activities of Petrolimex and its member companies. The credit is granted in accordance with legal provisions, and with Vietcombank's internal regulations promulgated within a certain period of time.
About Petrolimex
The Vietnam National Petroleum Group (Petrolimex) is mainly operating in exporting, importing and trading petroleum, and refining petrochemicals in Vietnam. Petrolimex maintains its leading role in the domestic market in line with the Government's direction, operating a network of about 5,500 petrol stations across the country (including over 2,700 stations belonging to Petrolimex and more than 2,800 stations belonging to agents, general agents and franchisees), facilitating consumers to easily get access to goods and services directly supplied by the Group. Besides petroleum products, Petrolimex's petrol stations also offer other commodities and services such as lubricants, gas, insurance, and banking among others produced and supplied by Petrolimex member companies. Petrolimex is a pioneer in applying emerging technologies in business and production activities, which helps increase productivity and better serve customers whilst ensuring energy safety and security, and effective management and business.
For further information, please visit: https://www.petrolimex.com.vn
About Vietcombank
Vietcombank is a leading commercial bank in Vietnam with nearly 60 years of growth and development, approximately 22,000 employees, and more than 600 branches/transaction offices across the country; and is the only Vietnamese bank that has representative office in three world financial centres, namely Hong Kong, the US and Singapore.
Vietcombank's total assets reached approximately VND1.6 quadrillion ($67 billion) with credit debt totalling over VND1.1 quadrillion ($46 billion). For years, Vietcombank has been a leader in the banking system in terms of quality and work performance and has remained the listed lender with the largest market capitalisation of some $15.5 billion.
Vietcombank is currently ranked 1,205th among the largest listed companies globally by market value according to the latest statistics of Reuters. Vietcombank's strategic goal to 2025 and a vision to 2030 is to firmly maintain its No. 1 position in Vietnam and its position as one of the 100 largest banks in Asia, one of the 300 largest banking financial groups globally, and one of the world's 1,000 largest listed companies, making significant contributions to the development of Vietnam.