Petrolimex, VinFast to jointly install charging points at petrol stations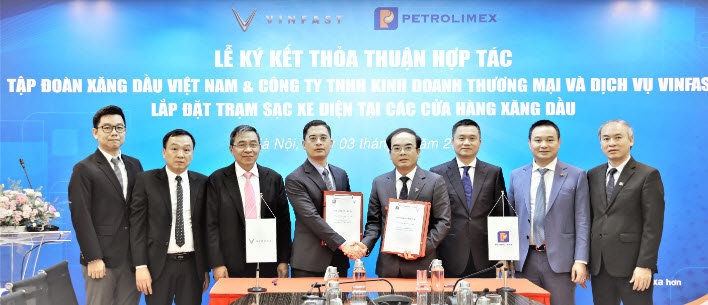 On June 3, 2022, the Vietnam National Petroleum Group (Petrolimex/Group – stock symbol: PLX) and VinFast Commercial and Services Trading Limited Liability Company (VinFast) – a member of the property developer VinGroup, signed a business cooperation agreement in developing electric vehicle charging stations at Petrolimex's petrol stations.
Entering the agreement with VinFast is seen as the first step in the cooperation between Petrolimex and VinGroup upon the comprehensive cooperation agreement that the two sides signed on November 8, 2018.
Addressing the signing ceremony, Party Secretary – Petrolimex Chairman Pham Van Thanh said the cooperation between Petrolimex and VinFast is suitable with the Group's development orientation and strategy in the current period to 2030, with a vision to 2045, which aims to become a green, clean and environmentally-friendly energy group. In addition, the move is completely in line with Petrolimex's strategy of transforming current petrol stations into smart and modern system fully integrated with other utilities. Besides bringing about sources of revenues and profits from added products and services, Petrolimex also aims to create new, modern, and environmentally-friendly petrol stations  offering customers with diverse utilities. In the time to come, Petrolimex's model petrol stations will present customers with various novel and diverse experiences, meeting the market requirements and optimising the space of petrol stations to develop services, such as: car washing, car maintenance and repair using Japanese technologies; café, restaurant, rest area; among others. 
Petrolimex has installed contactless POS (Point-of-Sale) terminals across its network of petrol stations nationwide, and is accelerating cashless transactions, and increasing conveniences and experiences for customers. At present, Petrolimex's petrol stations accept advanced payment methods including: (1) Visa, MasterCard credit cards; (2) Domestic ATM cards branded by Napas and cards branded Petrolimex - HDBank; (3) Scanning VNPAY-QR code.
In the context of global energy transition, the increased use of electric vehicle and reduction of emissions to the environment, especially Vietnam's strong commitments at COP26, the cooperation between the two Groups is regarded as a suitable move which will bring about mutual benefits. On the one hand it will help Petrolimex complete the Petrolimex ID ecosystem with smart and convenient petrol stations integrated with added services, and on the other hand it will facilitate VinFast to develop an ecosystem of charging stations for electric vehicles.  
Delivering his speech at the event, VinGroup representative Pham Thieu Hoa said: "At present, Petrolimex is known as the country's largest petroleum business, accounting for about half of the domestic market, with a network of some 5,500 petrol stations, in which the Group owns more than 2,700 petrol stations whilst the rest are agents, general agents and franchisees. VinFast expects that, after the signing ceremony, two sides will quickly conduct an assessment and survey of petrol stations satisfying set conditions so that electric vehicle charging stations can be installed and operated there soon.  Additionally, besides the installation of charging stations, VinGroup also enables Petrolimex to develop petrol stations on land lots owned by VinGroup, and concurrently, increase the use of Petrolimex's products and services including lubricants, gas, insurance, and banking, and so on."
With strength and position of the two large Groups, Petrolimex and VinGroup will study on further cooperation so that they can uphold common advantages for the mutual development as well as added benefits for customers and consumers across the country.