Stay unique, historic, modern, efficient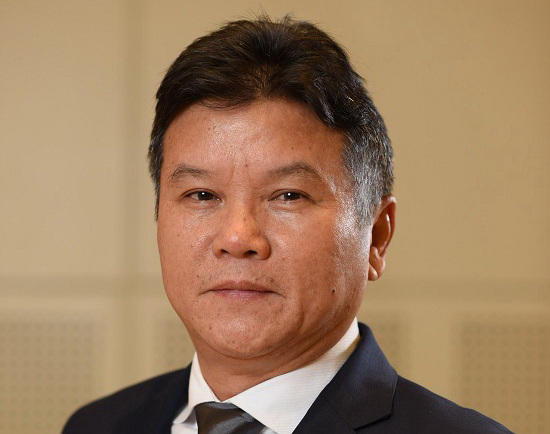 On July 1, 1973 Quang Ninh Petroleum Receiving Company (now Petrolimex Quang Ninh) was established to receive and transport petrol as part of national strategic duty. On the occasion of the company's 45th anniversary, the Cong Thuong (Industry & Trade) magazine speaks to Director General of Vietnam National Petroleum Group (Petrolimex/PLX) Pham Duc Thang.
The magazine:On the occasion of the 45th anniversary of Petrolimex Quang Ninh, could you please speak of milestones in the establishment and development process of the company?
Pham Duc Thang: Petrolimex is so proud of and treasures efforts and knowledge of generations of Petrolimex Quang Ninh's employees and labourers who have spared no efforts to help the company accomplish the national political and historical strategic tasks in the past and maintain vigorous development as present; continue ensuring sufficient source of petroleum for the vast northern region; including economic development, national defence, security and reserve.
Regarding milestones, I can brief as follows:
First, Petrolimex Quang Ninh overcame initial difficulties to put into operation pipelines, ensuring petroleum supply for production and business activities in the North and for the battle field in the South for national unification.
Second, with the assistance of former Soviet Union, Petrolimex Quang Ninh built a system of pipelines and depots capable of receiving and supplying 1,500,000cu.m of petrol annually for national demand.
Third, Petrolimex Quang Ninh made efforts to modernise the system of wharfs, depots, pipelines and supporting facilities and expand the distribution network, satisfying the market development demands, which increases its annual supply to four million cubic meters.
Fourth, Petrolimex Quang Ninh pioneered the application of informatics and automation to better management work, optimising resources and bringing into full play advantages to continuously enhance production and business efficiency.
As far as I'm concerned, in each different period of time [the company] carried out one specific task, but what remains unchangeable is the significant position of Petrolimex Quang Ninh in the national and provincial economy.
The magazine:What are Petrolimex Quang Ninh's specific characteristics and differences from other Petrolimex member companies?
Pham Duc Thang: The most distinctive feature of Petrolimex Quang Ninh, not only within Petrolimex but also on national and regional scale, is that it is the only company in Vietnam that transports petroleum through pipelines, considered as advanced in the region and the world.
Additionally, it is of historical and strategic significance in ensuring national energy security, especially vast areas of complex terrain in the North.
Pipeline-based petroleum transportation is the safest and most effective form of petroleum transportation that not all countries/firms are able to do even they want it.
Specifically it implies:
First, that is the synchronisation of facilities that no member unit of Petrolimex has, with a set of three systems of oil terminal – pipeline – warehouse being integrated into an uninterrupted complex of a strategic vision for energy security for the vast area in the North.
Second, the pipeline operated by Petrolimex Quang Ninh is the first and the only one to be built in Vietnam to date with total length of nearly 600km and being equipped with automation system from receiving, storing to transporting fuel; a perfect whole of the measuring system, automated marine/truck loading terminals, and pipeline flow meter that forms a nerve centre in Petrolimex Quang Ninh's pipelines.
The magazine:As you mentioned the automated system in the pipeline, could you please give some details about the Petrolimex Quang Ninh's information technology application in quality management and operation?
Pham Duc Thang: Petrolimex Quang Ninh is one of member units taking the lead in implementing the Vietnam National Petroleum Group's policy on applying information technology in quality management and operation.
The company successfully deployed the enterprise resource management software (ERP), and the retail network management software (EGAS) – these two management tools use devices, software, computers and the internet to connect pumps, depots, petrol stations and computers to form data for accurate and effective decisions.
Till now, Petrolimex Quang Ninh has developed a set of automotive fuels distribution system which consists of Automated dispatch system for water transportation; Automated dispatch system for road transportation; Automated measurement system; Automated error reporting system; Automated system for major pumping station; Automated flow meter control system; Automated overflow protection system; and CCTV camera system. Of note, the company has integrated these automation systems into the Central Freight Management System considered which is considered as "the brain" of the Petrolimex Quang Ninh's oil pipeline.
As a result, Petrolimex Quang Ninh has been operating its production and business system safely and effectively; and received trust from customers and partners for co-operation, and recognition from management levels.
The magazine:How significant investments to upgrade Petrolimex Quang Ninh's material facilities are to ensuring Petrolimex's fuel supply?
Pham Duc Thang: If there is any petrol project that received excessive interest and was most upgraded, it must have been the set of three systems of oil terminal – pipeline – warehouse managed by Petrolimex Quang Ninh.
This is a large investment project which was implemented over many years and included numerous component projects with the aim to cut cost, enhance efficiency, ensure safety and improve the capacity of the distribution network; and at the same time, help solve traffic congestion.
After years of upgrading, Petrolimex Quang Ninh's oil terminal has gradually been modernised and is now able to receive vessels of up to 40,000DWT besides a system of terminal dispatch stations from where gasoline and petrol are loaded into vessels and barges for delivery to coastal and road tankers.
The company also increased capacity of K130, K131, and Hai Duong warehouses; and upgraded the main pipeline from 159mm to 219mm, 323mm, and 406mm in line with the upgrading of the major pumping system. These projects have helped improve the capacity to receive and transfer petroleum by three times compared to the original design.
As such, upon the completion of component projects, Petrolimex Quang Ninh currently has a system of synchronous and modern material facilities including: oil terminal that can accommodate vessels of up to 40,000DWT, and receive about six million cubic meters of various types of fuel; five warehouses with a capacity of 400,000cu.m being connected uninterrupptedly with 600km of pipelines running through six provinces and cities of Quang Ninh, Hai Phong, Hai Duong, Hung Yen, Bac Ninh and Ha Noi. Additionally, Petrolimex Quang Ninh has 126 service stations in the four provinces of Quang Ninh, Hai Phong, Hai Duong and Hung Yen.
Being operational for 45 years, the set of three systems of oil terminal – pipeline – warehouse has enabled Petrolimex Quang Ninh to complete three missions: (i) Ensure sufficient supply of fuel for socio-economic development in the locality; (ii) Ensure national energy security for almost all provinces and cities in coastal, midland and mountainous areas in the North; (iii) Maintain national petroleum reserve as planned, preventing any upheavals in the petroleum market.
Anyone that ever set foot here should have felt surprised at the modernity and stature of these three systems, and at the dynamism and creativity of a company that has always taken the lead in investing into and applying advanced automation technologies to make full use of advantages and efficiency of the country's unique oil pipeline.
During a field trip [to Petrolimex Quang Ninh] in July 2010, musician Van Dung composed Song of Petrolimex, in which he highlights: Petroleum from here like red bloodstreams/following soldiers to various frontlines/flowing far and wide to help build the country/…
The magazine:How should Petrolimex Quang Ninh prioritise its investment in the coming time to fulfil its duties as a petroleum distributor whilst expanding its business?
Pham Duc Thang: Generations of the Vietnam National Petroleum Group leadership have consistently stayed focused on operating Petrolimex Quang Ninh's pipelines safely and effectively on the basis of applying the world's latest scientific and technological advancements into the management and operation of the pipeline and linear works from Petrolimex Quang Ninh's oil terminal.
Over the past time, Petrolimex Quang Ninh has done that very well, which was reflected through local media's field trip-based articles as well as the company's actual activities. Leaders of relevant ministries, departments, sectors and Quang Ninh Province have also provided practical support, creating favourable conditions for Petrolimex Quang Ninh in particular and the Group in general to accomplish their tasks – performing their own production and business activities whilst ensuring energy security for national economic development, reserve, defence and security.
Petrolimex Quang Ninh continues to be a key project of Petrolimex in investment development, application of scientific and technological advancements in automation, and optimal management to bring into full play efficiency of the strategic pipeline; and to prevent fire and explosion risks, and environmental pollution for sustainable development. That demonstrates a consistent vision of the current Petrolimex's Board of Directors as well as the makers of national energy security strategy.
The magazine:Thank you for your time!
Same category