Two tasks & 10 solutions set for 2018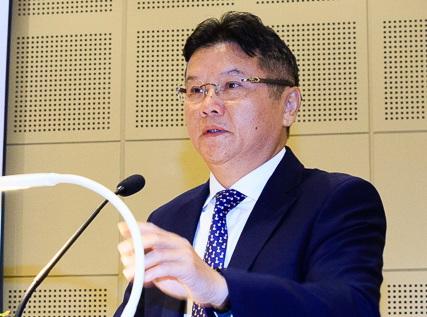 Vietnam National Petroleum Group (Petrolimex/PLX/Group) celebrated the 62th year of establishment and development on January 12, 2018. On this historic day, leaders of Petrolimex member units gathered at the Group's headquarters at No 1 Kham Thien Street, Hanoi to review the 2017 performance and embark on 2018 duties.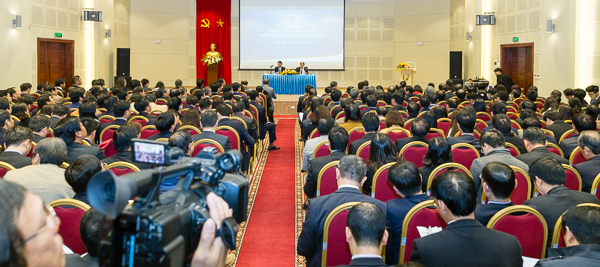 Photo essay can be viewed: here
In 2018 Vietnam aims for a gross domestic product (GPD) growth rate of 6.7%, total investment for social development accounting for 33-34% of GPD, exchange rate fluctuation of about3%; besides, competition has taken place more intense as a result of increased wholesale dealers and distributors and increased number of petrol stations in the midst of higher demand for petroleum and for high-quality fuel; unhealthy competition in the form of trademark infringement (imitation) and selling "fake petrol" becomes increasingly sophisticated, which requires further efforts to fight; petroleum competition is ushering in a new stage.
Under the context mentioned above, Petrolimex Board of Directors determined development objectives with new driving forces, new manners to suit the new situation.
Specific tasks set for the year 2018 include: (1) Effectively develop production and business activities on the basis of deepening Petrolimex's voluntariness and identities to reach targets set for each area; on the basis of ensuring absolute safety, promoting the application of information technology and automation in order to increase the level of comprehensive safety and increase labour productivity in both areas of producing and trading Petrolimex branded goods/services. (2) To continue restructuring in accordance with the Prime Minister's Decision No 828, including the reduction of State ownership to 51% per Decision No 1232.
Based on the two tasks mentioned above, the Group Board of Directors set forth 10 specific solutions. In the field of petrol, it is necessary to continue promoting Petrolimex's core values built up throughout the past 62 years, concentrate on developing the four key activities (logistics, fuel mixture, quality, IT application and automation) announced at the Group's first quarterly conference of 2018; concurrently keep a close eye on the State Bank of Vietnam's exchange rate adjustment policy, and Petrolimex will work with financial advisors to control risks in this area (exchange rate, interest rate, petrol price), control variable costs and fixed costs to make sure that financial situation is always sound and efficiently used. Branding and brand identity continue prioritising concurrently the mobilisation of the whole Petrolimex system on the basis of co-ordination with State management bodies and media to successfully protect well-known Petrolimex trademark from any infringement of trademark rights by enterprises that are listed in Petrolimex's distribution system as well as enterprises that commit trade fraud, damaging prestige of Petrolimex brand.
Regarding non-petroleum goods/services, it is essential to continue promoting business efficiency on the basis of promoting the systematicness, reaching out to the society, and to the outside world. A number of specialised corporations continue to restructure internally to manage enterprises in the direction of: concentrated management, comprehensive development and being compatible with new context of competition as well as structure to ensure sufficient sources.
The year 2017 is the third consecutive year that Petrolimex has completed and exceeded set targets with encouraging growth rate. Of note, Petrolimex was successfully listed on the stock exchange (ticker symbol: PLX), maintained is leading position in revenue, was recognised top 50 best listed companies on Vietnam stock market in 2017, with market cap reaching VND100 trillion (US$4.4 billion) . All these achievements demonstrate PLX's transparency, prestigious position of Petrolimex and promising prospects of PLX in the market, especially for Vietnamese and foreign shareholders/investors who want to choose and own PLX.
The year 2017 also witnessed Petrolimex performing impressive activities through investment into expanding distribution network, successfully applying the unified five-step selling process in the whole system, successfully launching new products of DO-V & E5 in the market which showcases the Group's voluntariness and responsibility towards the State, consumers and the environment; bringing new vitality to production and business activities to be well prepared for 2018 plans.
Petrolimex leadership and member units and the whole Group employees and labourers will continue bringing into full play their responsibility towards shareholders to make sure that the Group's development goes on the right track, and business operation is safe and effective, making active contributions to the socio-economic development of localities and the whole country as well as of respective countries where Petrolimex is doing its business.
Petrolimex determination and Petrolimex plan with steady and comprehensive development targets are practical activities welcoming the New Year 2018, celebrating the 62th founding anniversary (January 12, 1956-January12, 2018) and the coming 90th Traditional Day of Vietnam Revolutionary Petroleum Industry (March 13, 1928-March 13, 2018).
On the occasion of the 62th founding anniversary of Petrolimex and coming lunar New Year (Year of the Dog), Petrolimex leaders expressed their most sincere thanks and congratulations to the whole Petrolimex employees and labourers.