Petrolimex Singapore & Petronas (Petco Labuan) sign commercial contract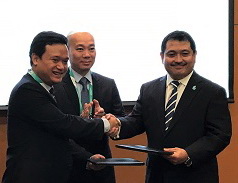 Petrolimex Singapore Pte. Ltd. officially signed a cooperation contract with Petco Trading Labuan Company Ltd, a subsidiary of the Malaysia's Petroliam Nasional Berhad (PETRONAS) during a ceremony held on May 9, 2017 at the Petronas office in Kuala Lumpur, Malaysia.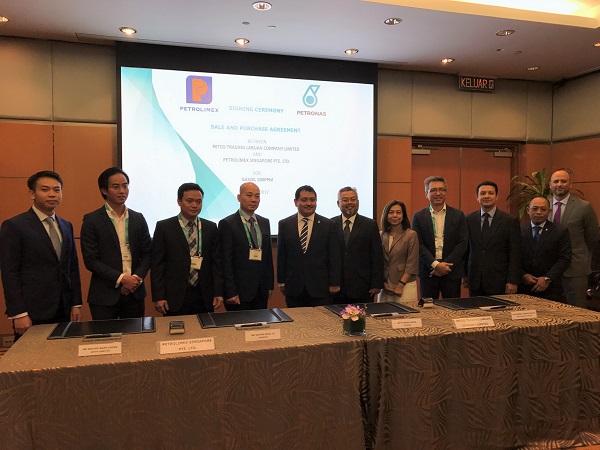 Signing ceremony for diesel supply between Petco Labuan and Petrolimex Singapore.
The signing ceremony attendees include Board of Management member and Deputy General Director of the Vietnam National Petroleum Group (Petrolimex) Vu Ba Phu, Director of Petrolimex Singapore Nguyen Ngoc Tu, Deputy Director of Petrolimex Singapore Nguyen Manh Cuong, and Head of Petrolimex Singapore's Marketing Division Bui Ngoc Thach Anh. The event also witnessed the attendance of Vice President of Oil Business, Downstream at PETRONAS cum Petco Labuan Chairman Ir M Firouz Asnan, Petco Labuan CEO Shamsul Bahari Salleh and representatives from related divisions.
The two sides signed the contract to supply diesel produced by Melaka Refinery for Petrolimex Singapore for a period of one year. This is the next step of development in the strategic trade cooperation between the two companies which has been established and developed over the past years, and especially promoted since 2016.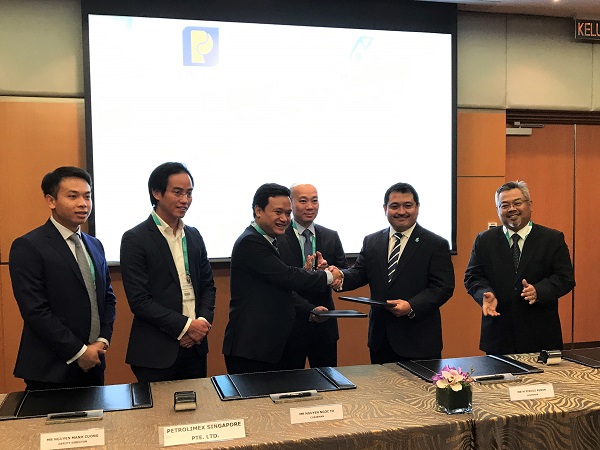 Petco Labuan Chairman Ir Firouz Asnan and Petrolimex Singapore Director Nguyen Ngoc Tu shake hands, congratulating the fine relationship between the two companies.
Such long-term contract with Petco Labuan, a subsidiary of Petroliam Nasional Berhad (PETRONAS) well-known as a supplier of standard and high quality goods, will create steady foundation and conditions for Petrolimex Singapore to bring into full play its advantages, develop and expand Vietnamese and regional markets, fetching sustainable values for the company and reinforcing and affirming Petrolimex brand in the regional and international market.
Besides the supply of diesel, Petco Labuan and Petrolimex Singapore concurred to continue promoting the mutual cooperation, gradually expanding the trade relationship into other commodities and products.
In 2016 Petrolimex Singapore gained good business results, with yearly output and profit reaching and exceeding the set target. In the first quarter of 2017, the company continues to yield positive business results with the output of nearly 650,000 cu.m/tonne; turnover of US$260 million; profit of $500,000, fulfilling 30% of the year plan.