Soldier's characteristics, human affection: a success story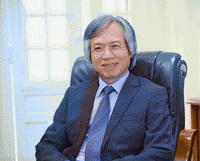 In April, 2015, by chance I met my "golden friend" who is working in the oil and gas industry. I have called him so for ages as we became friends when both of us were still leading a hard life. We always adore each other because of the "sincerity". He is the Party Secretary, Chairman cum Director of Petrolimex Hai Phong, Tran Minh Duc.
From worry to pride
In 2009, when I heard about the "golden friend" being appointed as Director, I had a mixed feeling of both happiness and sadness.
I was happy because the head of an enterprise must hold a significant position and had been trusted, selected and considered before he was officially promoted. In addition, I was very delighted that that would be the chance all his quality, aspiration and philosophy were put into practice in a position of both honor and heavy responsibility.
I was both happy and worried. Frankly speaking, I was more worried than happy.
It was because the year 2009 was the time the global economy was in the midst of recession, affecting the national economy: the major petrol consumers in the locality such as cement, iron and steel, shipbuilding, and transportation enterprises operated at an indifferent level. Competition in Hai Phong which had already been fierce became fiercer. I wondered how Petrolimex Hai Phong could fulfill their plan.
I was worried becauseHai Phong accommodated four main importers of petrol whereas the unofficial operation of various suppliers was not uncommon, damaging the efforts of righteous enterprises. Petrolimex Hai Phong was among under - performers in the industry, resulting in weak competitiveness. As far as I know, right after my friend took office, he would like to invite the Petrolimex leaders to visit Petrolimex Hai Phong so that he could present projects to revitalize the company. In return, he got sort of response implying that "Petrolimex Hai Phong should exert itself first and once it successfully rescued it, they would pay a visit". Such "provoking" response also implied the low position of Petrolimex Hai Phong in the general development of Petrolimex.
Also I was concerned aboutmy very friend. He was born in 1959, the Year of Pig. According to astrology, people born in this year always strive for a healthy life, dare to cope with adversities, and dislike restraints. Anyone who has ever met my friend would remembers him forever: artistic shoulder-length grey hair (we often call him "Duc the artist" because of his singing skill and a poem's ability), and appropriate manners, which were probably built up through his own passion for martial arts, sports, music, photography, painting, and architecture, among others. In other words, the "emotion"/"EQ" are easily seen in this man; thus I wondered his characteristics would work for a head of an enterprise that "operates under certain conditions", and had to work hard in the fierce competition with others. I wondered whether he would make home the bacon and demonstrated that he completely deserved the trust from the leadership at all levels as well as from the Petrolimex Hai Phong staff.
As a matter of fact, in the normal life when two people become intimate friends, they would worry about such things for one another!
Now all my worries are gone. As soon as we saw each other, my friend rushed to embrace me, happily saying "We have risen to our feet". "All work quite well, there is nothing to worry!".
I am so proud of "My Golden friend" and his success. We friends are always greatly cheered by such things!
People are the key to corporate development
Sipping some warm tea, my dear friend, still in his bold look since the childhood, proudly said: the company is to celebrate the 60th anniversary of its establishment (July 29, 1955 – July 29, 2015). We will organize a grand ceremony under the participation of the whole Group, thus it promises an "imposing" celebration and marks a milestone in the company's development in the new phase. It is the very effort of many cadres and laborers from different generations over the past 60 years that has helped build up Petrolimex Hai Phong as currently seen.
Seeming to see my anxiety, he went on to say: Set your mind at rest and enjoy the tea, my staff already take care of work. Saving means we should not waste anything, and should not "splash water after the rain"; what needs to do should be done, and must be done well to have a good brand name.
Then he "shows off": The company is growing quite well, both cadres and workers are sound in mind and body, commodities are developed well with high effects and high competitiveness except for the oil and gas products which are decided by the higher authorities.
For instance, in the 2010 – 2014 period, on average Petrolimex Hai Phong saw a 18 per cent increase in the total amount of oil and gas stored annually, a 7.6 per cent increase in the annual oil and gas retail, and 4.4 per cent increase in yearly productivity. During this period, the total turnover increased 64 per cent, contribution to the State budget increased 69 per cent; other goods/services increased more than 20 per cent, and investment increased 80 per cent as compared to the 2005 - 2010 period.
I feel pleased for my friend but I still wonder "you may be supported and assisted by persons of rank?".
"You are my friend but you raise such a weird question". I left the army and worked for Petrolimex Hai Phong. I had been assigned with personnel work for 21 years and I understood that: People are the key to development of an enterprise. Yes, "that much understanding has supported and assisted me". Managing a whole enterprise, definitely it is impossible to work by snatches like an artist!
As soon as I took office, I was sleepless for many nights. I wondered how, with available workforce and organization, to bring into full play the strength of each individual to create new way of thinking, new know-how and with greater responsibility. Therefore, during the first working day as the company's director, I met with all key cadres of the company. I did not talk about specific works but about corporate culture. I wanted to ignite the aspiration for work and dedication from each of them, Duc said.
One of the fine cultural features of the company
For ages, the fine tradition of "No 1 So Dau" (the headquarters of Petrolimex Hai Phong) has been presented through the culture of "seniors – inferiors, before - after" (which shows that the relationship among people must be based on the seniority and duration one has worked for the company). That practice created "the system" but lacked openness for labor forces to bring their creativity into full play. How to renew such tradition whilst maintaining the good old things and bringing in the good new thing into life? – that was a really challenging question for the company's head.
My friend decided to make a breakthrough in "decentralization" to follow the "pressing game" style in football; which means, each player must be responsible for a 'conflict' area on the ground. For example if someone is assigned to manage a petrol store, s/he must be responsible for all works from output, worker management, signing contracts with customers, to debt withdrawal, controlling fire and explosion risks, and environmental hygiene. In regard to the cadre work, the reduction and promotion of the workforce must ensure two factors: decision and respect. Decision means an approval from the higher leadership. Respect means there is a broad support of the collective through votes of confidence. "These helped liberate the production force, most importantly the people, and build up belief among the people; thus, all people showed their great support and were every delighted to carry out their tasks, which has brought about impressive results," Duc shared.
Soldier' characteristics and human affection
Tasting another sip of tea, Duc kept going: My dear friend, I think that all will be gone except the two things "soldier's characteristicsand human affection". He explained, "soldier's characteristics" demonstrate the system, discipline, team spirit, and joint efforts for the corporate benefits. These present a hard strength. "Human affection" means the affection among the enterprise staff, with customers, with the public and the society. This presents the humanity and creates a soft strength. Wherever there are these two elements (both hard and soft) – I'm convinced it will be strong.
Such 'soldier's characteristics' have enabled my friend to make decisions without hesitating: what was a burden for the enterprise – cut, what made the enterprise go down – cut. For instance he decided to turn back 50 hectares of land for Hai Phong City, liquidated the old and small warehouse as he had seen the inefficient use of the land plot whilst the State kept increasing the land tax for several times. It was similar to the company's departments. He shut down, reestablished or adjusted departments that performed inefficiently or hindered the company's development until they run well.
Of note, with such "characteristics and human affection", Duc successfully persuaded Vietnam Air Petrol Company (Vinapco) to use Petrolimex Hai Phong's services. At first, Petrolimex Hai Phong stored freight for Vinapco, then, the latter trusted Petrolimex Hai Phong to transport their cargo too. Especially, Petrolimex Aviation Fuel JSC has also registered to have their freight be stored and transported by Petrolimex Hai Phong. Consequently, Petrolimex Hai Phong has taken full advantage of its material infrastructure, earning the company an addition of nearly VND10 billion each year (US$458,000).
Do to strengthen Petrolimex prestige
Duc once said: If do, do "to the last breath" to deserve the Petrolimex prestige; if not, don't.
In 2014, Petrolimex Hai Phong reached an increase between 35 – 30 per cent of the sales of Petrolimex gas and lubricants. The Petrolimex leadership set a target for the Group's member companies to "ensure that petrol trading contributes up to 25 – 30 per cent to the salary mechanism". Petrolimex Hai Phong has so far reached more than 20 per cent, and is among the top performers in terms of productivity and efficiency.
Results are similar in the retail of oil and gas. Besides following close behind the Hai Phong City's plans for developing a key network, Petrolimex Hai Phong has pioneered in upgrading petrol stations: applying new Petrolimex identification standards, rationalizing site surface, increasing capacity, and reinforcing fuel dispensers. As a result: petrol stations that used to sell between 400-500 cubic meters/month have increased their monthly sales to over 1,000 cubic meters/month after renovation, whereas only a handful of petrol stations across the country can reach monthly sales from 1,000 cubic meters. Petrolimex Hai Phong now has two petrol stations that can sell 1,100 cubic meters a month and 1,200 cubic meters a month; three petrol stations reporting monthly sales of between 800 and 900 cubic meter. Petrolimex Hai Phong staff have targeted to join the "Club of Petrolimex petrol stations that sell thousands of cubic meters monthly" in 2015 and early 2016.
I was delighted with the phrase "Petrolimex rank" so I asked my "Golden friend" "What is Petrolimex rank?". He replied: one must be "professionally proficient" and "of high specialism", so as all acts will come naturally. This is to say one should not wait until they arrive in the play field do they start thinking of doing this or doing that, which would certainly achieve "unsatisfactory results"!
We had not seen each other for ages, thus, my friend asked me to stay for dinner. I said: It is better to have banh da cua (noodles with crab, a specialty of Hai Phong)! He smiled, saying: Let's do as you will. I am also a fan of the dish. It is very Hai Phong. It makes its own name.
This year, the summer arrived sooner than usual. In April, Hai Phong City was blazing red with flamboyant, bringing back a rush of childhood memories from afar. The students now go to school by motored bicycles, not the normal bikes as we did in the past, but streets are still full of schoolgirls in white ao dai (Vietnamese traditional long split tunic) who ride motored bicycles with "baskets filled with flamboyant" under the sun.
I and my friend – the two old friends – raised the toast for our meeting and bid each other goodbye. Then my friend said: Wait! I present you a DVD entitled "Hai Phong – the cradle of Vietnam's revolutionary oil and gas industry", Vol 1, which also features "Duc the artist". You remember to play it for all family members. I feel so honored and proud!
Tran Minh Duc's "characteristics and human affection" seem to stay put in my mind and heart when I write down these lines to present to Duc and Petrolimex Hai Phong staff. The writing also demonstrates the intimacy of a friendship that each of us should respect!