A time of sharing and giving

On the threshold of the Year of the Rooster 2017, Petrolimex General Director Tran Van Thinh invited some reporters to join a field trip to learn about the supply of Petrolimex petroleum and other goods/services in the two northern mountainous provinces of Dien Bien and Lai Chau.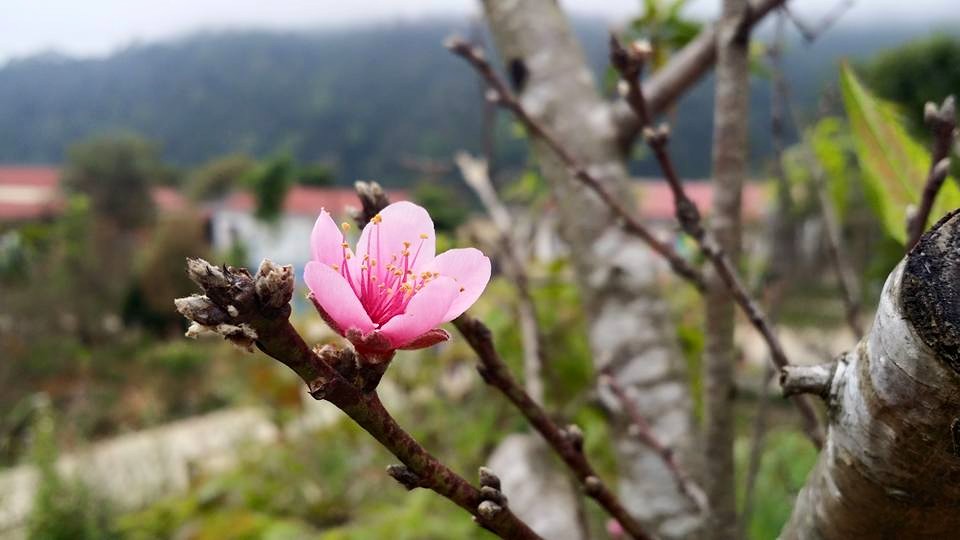 A touching story
Due to time limit of the reporters, the delegation took a plane there. The weather was fine then and we landed in Dien Bien after flying on a Vietnam Airlines' ATR-72 less than an hour.
Furthermore, we already travelled there by road on tank trucks following the SCTV film crew last year. The trip took us four days (we travelled by day and rested by night) from the K133 Petroleum Enterprise in Hanoi's Thuong Tin District to Muong Nhe – the Indochina T-junction of Vietnam, Laos and China.

Dien Bien is a place where the Vietnamese army and people made the world-shaking Dien Bien Phu historical victory; and is closely attached to legendary General Vo Nguyen Giap who is considered the eldest brother of the Vietnam People's Army and is widely revered by Vietnamese people.

Dien Bien is the home of peaceful Muong Thanh valley naturally created by the sky and the earth plus the blood of Vietnamese heroes, and is the land of hard-working people who have cultivated a variety of rice featured as "Golden Seeds" in poet Tran Dang Khoa's work Hat gao lang ta (The Rice Seed of our Village). The rice is currently known far and wide as a Dien Bien specialty which offers a complete distinct fragrance and taste.
After a 30-minute meeting at the Petrolimex Dien Bien, Chairman and Director of the Petrolimex Dien Bien Tran Quang Hung invited us to attend a special programme to present gifts to Dien Bien District's Boarding Secondary School for Ethnic Students at 4.30pm. This is one of charity activities that the Petrolimex Dien Bien staff planned for the year.

Located not far away from Dien Bien District's centre, the school is accommodating 300 students of various ethnic groups. Their study is taken care of by the Party, the State and the local Party Committees at all levels as well as local residents. The students are considered as they key seeds of Dien Bien in the future.

Our hearts were immediately filled with emotion as we entered the school. The school recalls us of the days of the past – a childhood in poverty but full of so many beautiful aspirations.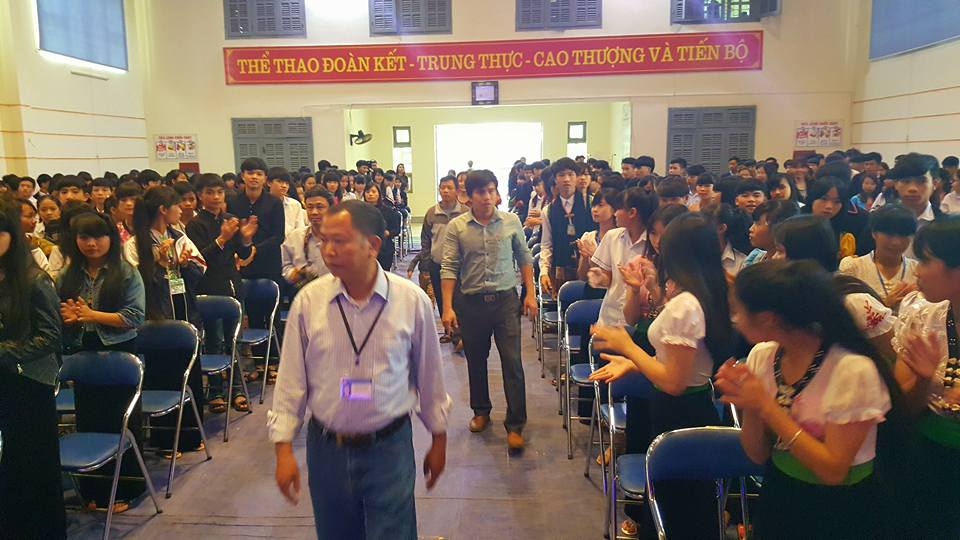 As we took steps inside the schools' meeting hall, all the teachers and 300 students stood up, greeting us with great applause. Such warmth welcome touched our hearts. The sentiments they gave us were huge. We really honoured such nice attitude.

Their innocent faces and bright looks display something that is worth respecting, loving and trusting, and wants to tell us many things more.

"It's not how much we give but how much love we put into giving"
Besides a LG Led 49" smart TV presented to the whole school, which is the school's first flat screen TV and a large amount of Petrolimex's Jana laundry detergent, Petrolimex Dien Bien gave 20 warm blankets and 20 scholarships to the school's 20 talented but impoverished students.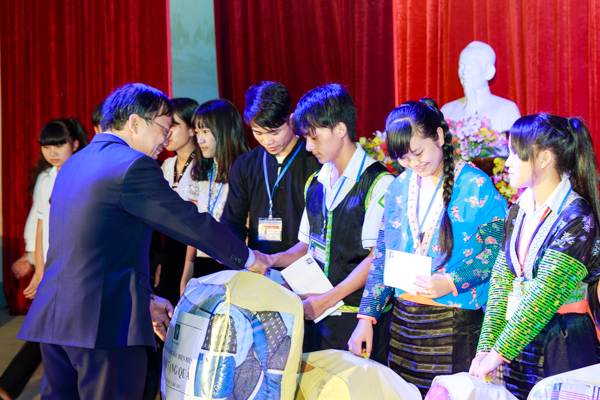 Secretary of Petrolimex Dien Bien Party Committee and Director Tran Quang Hung presents quilted blankets and scholarships to 20 talented by impoverished students of the Dien Bien District's Boarding Secondary School for Ethnic Students
Holding a small but heart-warming gift to give to each student, we all wish that Petrolimex will perform increasingly effectively and efficiently so we could give much more than that.

You don't need to wait till you are extremely rich to be philanthropic. The sharing or devotion of things when "we ourselves still live in times of poverty" reminds us of the true meaning of giving and receiving. Do good and good will follow you for life.
Children are the future of the nation. It's true wherever we are! It is the mission of adults to educate children and in this case it is the mission of teacher, principal Tran Dang Khoa and the school's teachers. And they always wish for better material facilities to serve the teaching and students' living at school.
Petrolimex is like that. A same attitude has been developing from the Group throughout to each member company.
We are soldiers in the field of petroleum. During the war time, we protected every single drop of the nation's petroleum.
During the peace time, we carry on shoulders/transport every single drop of petroleum to ethnic groups in remote, mountainous and underprivileged areas with a love for the Motherland, a love for the fellow countrymen as featured in Nguyen Bang's article Ai yeu Muong Nhe thi len (Come to Muong Nhe if you love it) and Bui Thuong's Cong chu P len ngan du ky (Transport petroleum to mountainous areas) which were recently awarded by Petrolimex General Director Tran Van Thinh in Da Nang.
In 2016, the whole staff of the Petrolimex Dien Bien saved every penny from their salary to share with needy people in the province, totalling VND113 million (US$5,000). The sharing and giving have become a fine tradition and gesture of the Petrolimex Dien Bien, which has been maintained continuously by the company's staff for years.
The warmth of Spring
Returning Dien Bien for the third time, we were all delighted to see Dien Bien's changes. However, what would stay in our heart and mind forever is the applause and smiling faces of the students of the Dien Bien District's Boarding Secondary School when receiving warm blankets for a chilling winter.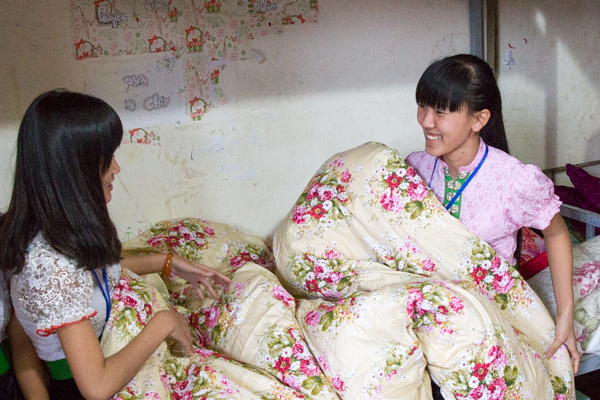 Out there, first peach blossoms of the season have just opened. This Spring is surely warm as human love always warms Spring up.
A new Spring is coming, full of vitality. Spring is arriving in our beautiful and beloved Vietnam.