Petrolimex deploys E5 on the right track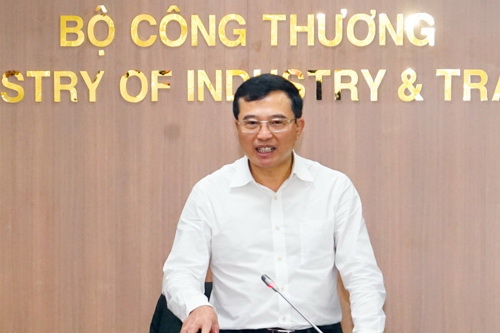 On 12.09.2017 Ministry of Industry and Trade presided at the conference about implementation of E5 RON 92 (E5 petroleum) at the office building of the Ministry of Southern – address: 12 Nguyen Thi Minh Khai street, District 1, Ho Chi Minh City.
Deputy Minister of Industry and Trade Hoang Quoc Vuong presides at the conference
At the conference, there are Deputy Minister of Ministry of Industry and Trade (MOIT) Hoang Quoc Vuong, representatives of Departments under MOIT, Departments / Departments of provinces / cities and representatives of petroleum wholesale traders from the South.
Petrolimex Deputy General Director Nguyen Quang Dung, Deputy Manager of Petrolimex Business Division Nguyen Hong Nam, Deputy Director ofPetrolimex SaigonDuong Van Phi , Deputy Director of Petrolimex Saigon Dao Van Hung and General Manager of Petroleum Retailing Enterprise – Petrolimex Saigon Nguyen Tien Quang.
Speaking at the meeting, Petrolimex Deputy General Director Nguyen Quang Dung stated that Petrolimex has prepared the overall technical infrastructure as well as the mineral oil, blending and logistic solutions or E5 petroleum to be ready to supply the market's demand on the right track according to the Government.
Petrolimex currently has three Oil Terminals in charge of blending within the whole country such as B12 (Quang Ninh), Van Phong Oil Terminals and Nha Be Oil Terminal with in-tank and direct blending in-line tanker trucks can meet the capacity of blending 4 - 4.5 million cubic metres of E5 petroleum per year. The Group has been working and coordinating with ethanol plants factories to order ethanol in the first six months of 2018. It will continue to be under researching / re-evaluate the demand for planning to ensure a good supply for the market.
Deputy General Director Nguyen Quang Dung stated that up to now, over 60% of Petrolimex's petroleum stations on nationwide have completed conversion. Ho Chi Minh City - Petrolimex Saigon has completed 100% of Petroleum Station stopped trading RON 92, left only E5 RON 92-II and RON 95-IV. At the same time, Petrolimex commits to trading E5 petroleum on the right track - before 12.15.2017, completes the whole system over 2,400 petroleum stations, sooner than the Government's requirements around 10-15 days.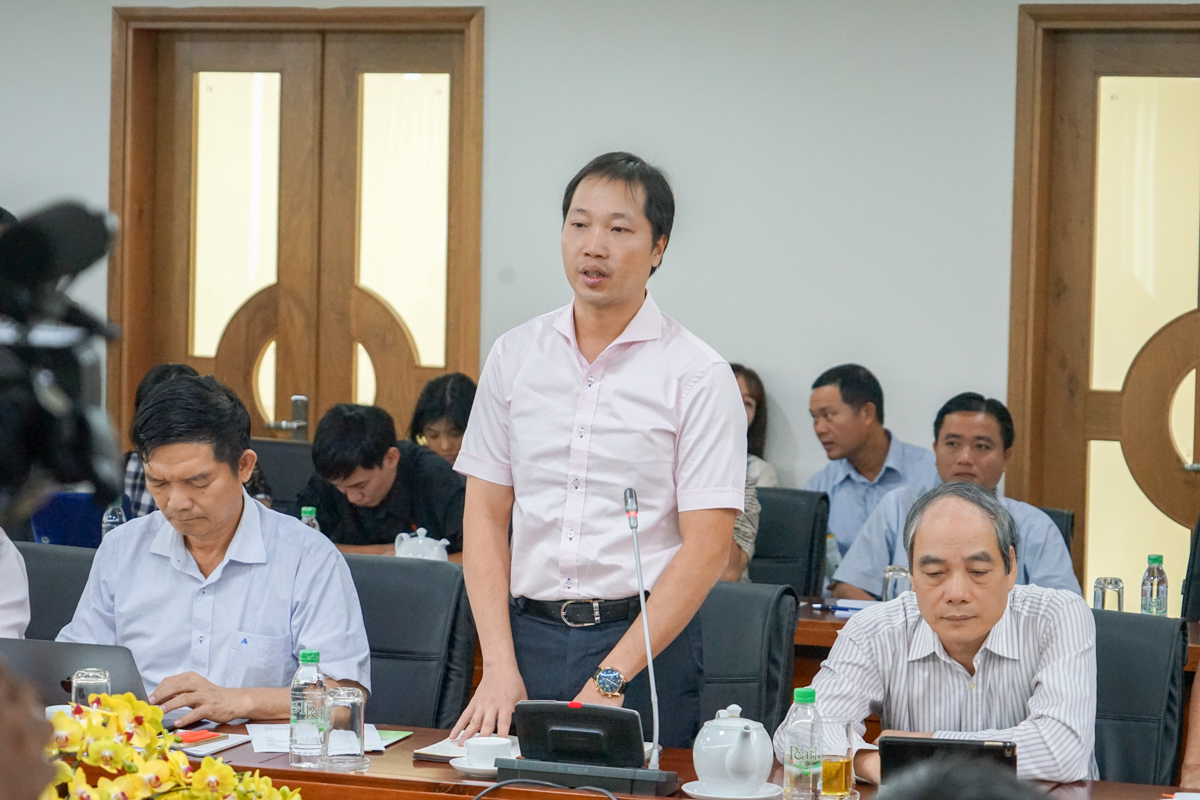 Deputy General Director of Petrolimex Nguyen Quang Dung expresses at the conference
On the local side, deputy director of Ho Chi Minh city Industry and Trade Department Nguyen Phuong Dong said that reckon December 6th, 2017, 240 out of 534 local petroleum stations participated in distributing E5 p;etroleum (rate 45%), average consumption reached 8,053 cubic metre per month. . Expected from 12.15.2017 Department of Industry and trade with Market Management will organize the petroleum stations inspection within Ho Chi Minh City about the implementation of E5 petroleum conversion E5 following the Government direction.
Making a conclusion at the conferrence, Deputy Minister of Industry and Trade Hoang Quoc Vuong affirmed that by using E5 petroleum in 8 provinces from 2014 up to now, there have been no complaints from customers about the quality of this item. At the same time, required the provincial Departments of Industry and Trade coordinated with the media agencies to further promote the dissemination and supply of information on E5 petroleum to consumers; To organize the inspection and supervision of the compliance with the roadmap of enterprises so as to ensure the equality of trade; To control the quality of petroleum put into circulation at the petroleum stations according to the current regulations / processes of the Government.
Deputy Minister also direct the petroleum traders to expeditiously complete the related activities, especially raising the capacity of the blending stations; actively deploying E5 petroleum in the whole system as soon as possible, waiting until 01.01.2018 is not necessary. Highly appreciated Petrolimex has actively deployed E5 petroleum earlier than the general roadmap across the country.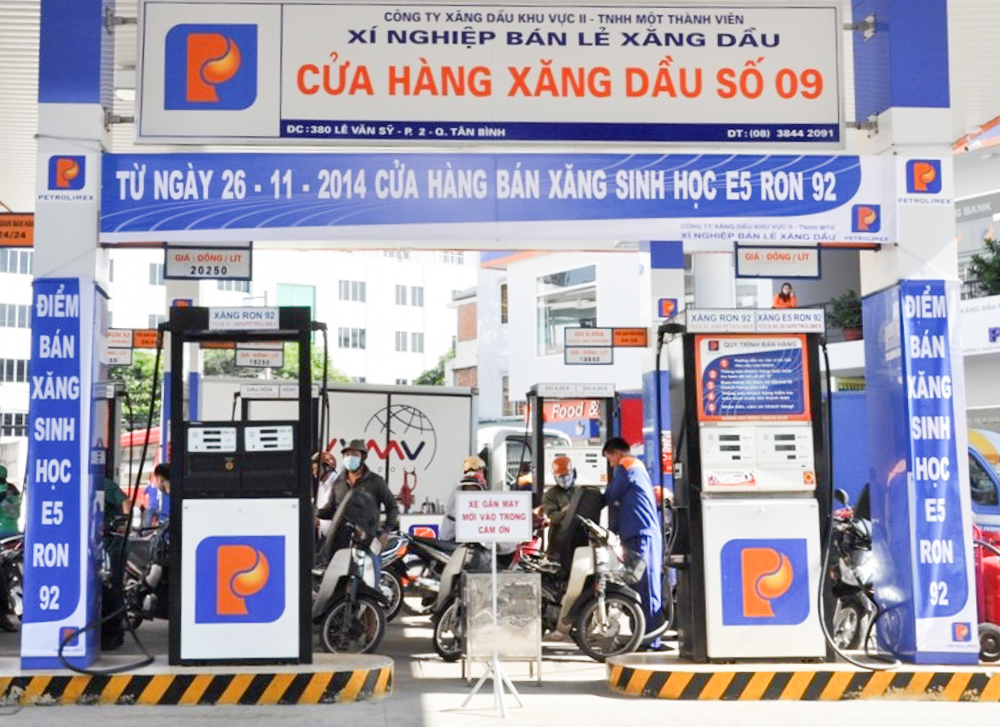 Petrolimex petroleum station has been trading E5 petrol since very early (2014) - Photo: Petroleum Statyion No. 09, Le Van Sy street, District 3, Ho Chi Minh City
At the conference, Deputy Minister Hoang Quoc Vuong reiterated three goals for deploying biofuels: (1) contributing to ensuring energy security - our country does not have many sources of fossil fuels; (2) Contributing to environmental protection - By replacing 5% of RON 92 with biofuels, environmental quality is significantly improved; (3) Contributing to the development of the agriculture sector - Our country has 1.2 million people cultivating cassava material areas (degraded land, difficult to grow other trees, efficient exploitation of land funds).
The usage of biofuels produced domestically will promote consumption - economic development and respond to the program "Vietnamese people prefer Vietnamese products" launched by the Ministry of Industry and Trade.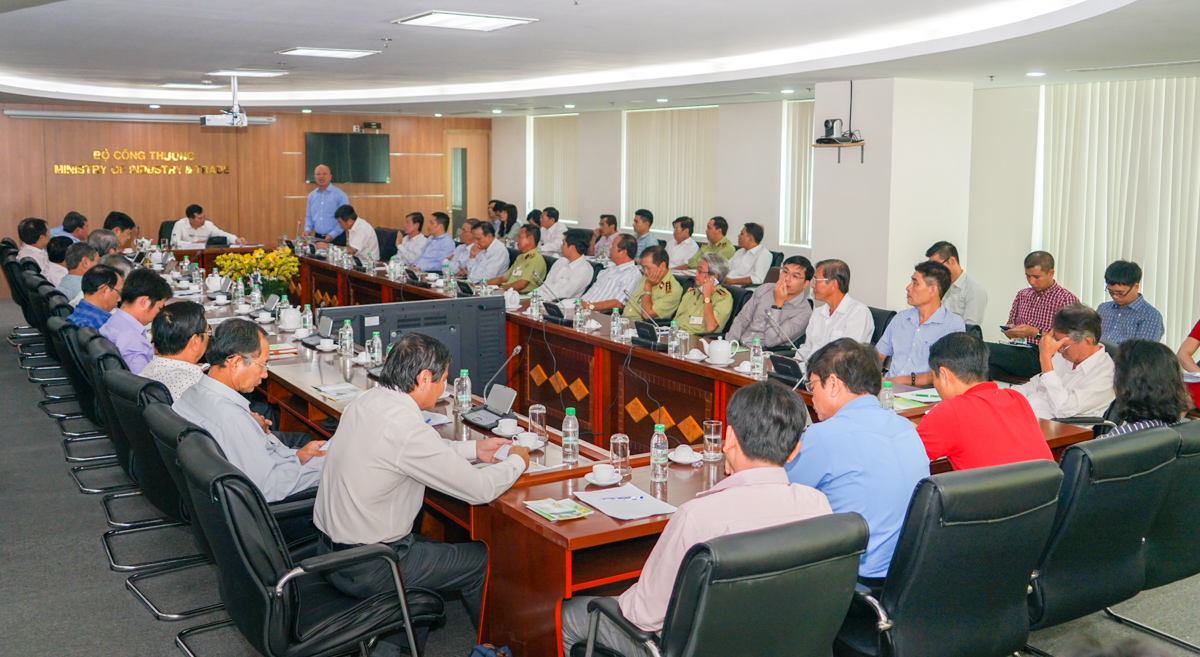 Overal of the conference
What is biofuel?
Apart from wind energy, solar and nuclear energy, bioenergy is an inevitable trend, especially in agricultural countries and imports fueled by benefits such as: simple production technology and the use of raw local materials. The use of biofuels enhances the efficiency of agricultural economies and reduces harmful emissions to the environment.
Biofuels are made from plant and animal derived compounds such as vegetable derived fats (animal fat, coconut oil, etc…), cereals (rice wheat, maize, soybean ...), agricultural waste (straw, fertilizer, ...), waste products in industry (sawdust, wood waste products ...).
In Thailand, Philippines biofuels are made from palm kernel, copra while Brazil uses sugarcane and waste wood, sawdust and wood by-products in Canada . In Vietnam, biofuels are produced from cassava.
Biofuel E5 is a blend of 95% petroleum and 5% ethanol. Because Ethanol has a high octane value of 109, it will increase its anti-knock ability, which will help the combustion process in the engine to be more radical and therefore will "Clear the combustion chamber – Good for environment