Five years – a firm footing in Lao market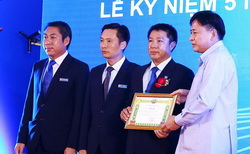 Petrolimex Lao One-member Limited Company (Petrolimex Laos) solemnly celebrated the 5th anniversary of its establishment and received certificates of merit presented by ministries of industry and trade of Laos and Vietnam on October 26 in Muong Thanh Vientianne Hotel, Vientianne Capital, Laos.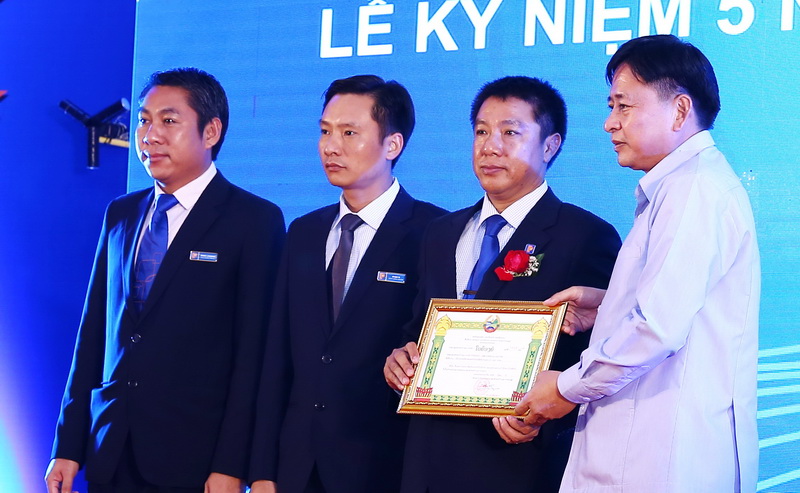 Deputy Minister of Industry and Commerce of Laos, Somchit Inthamit, presents the Certificate of Merit to Petrolimex Laos

The event witnessed the participation of representatives from Lao ministries of finance, and industry and commerce, Vietnam's Embassy in Laos, Vietnam's Ministry of Industry and Trade, Vietnam National Petroleum Group (Petrolimex/Group), media outlets, partners – trading partners – customers of Petrolimex Laos from Laos and Vietnam, and Petrolimex Laos officials and labourers.

Five years is not such a long time in an enterprise' development history generally speaking and in the 60 years of development of Petrolimex particularly, but achievements that Petrolimex Laos has gained in that period in Laos are so encouraging and proud of.
The company staff from leaders to labourers have concentrated their brainpower and stood side by side to develop Petrolimex Laos into one of enterprises that make the largest share in Lao petroleum market.

Petrolimex Laos' efforts and gains have been recognised by the Party and Government of Laos and Vietnam, and Vietnam National Petroleum Group with numerous certificates of merits being presented to the company, teams and individuals at the anniversary.
On behalf of the company's leadership and employees, Chairman and General Director of Petrolimex Laos, Phan Van Minh, made a report of the company's five-year operation in Laos and expressed his deep gratitude to the Government and ministries of Laos and Vietnam and Lao local authorities for their thorough direction and assistance; to the Group for their instruction and investment; to trading partners and partners for their close cooperation; to Lao consumers and customers for their trust and love; and to all staff, of those 80 per cent are Lao people, for their non-stop efforts.

On the occasion, participants had chance to enjoy the "Petrolimex Laos – Spanning Friendship" documentary produced by Saigontourist Cable Television Limited in September. The film features vivid and attractive images of the Lao country and people as well as operations of Petrolimex Laos at its five years of age. It was already broadcast in the SCTV 14 HD channel in Vietnam and the LNTV1 news channel of the Lao National Television.
Editorial board of Petrolimex Laos' website would like to introduce a whole view of the anniversary as follows:
Part 1: Welcome reception
Part 2: Receiving certificates of merit presented by ministries of industry and trade of Laos and Vietnam
Part 3: Welcoming a new day with the Vietnam – Laos friendship