Petrolimex Laos marks its 5th year with spectacular success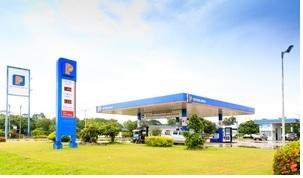 Petrolimex Laos, wholly-funded by Vietnam National Petroleum Group (Petrolimex), was officially put into operation on October 1, 2011. After five years, Petrolimex Laos has gradually made its name as the company ranks fourth out of 22 petroleum businesses in terms of the sales of its products.
Starting out
Petrolimex issued Decision 288/XD-QD-HDQT on July 17, 2011, giving the go-ahead for the establishment of Petrolimex Laos, following its purchase of an American business' oil and gas trading system.
Shortly afterwards, Petrolimex Laos started changing brand identity system in all warehouses, depots, agents, and general agents. Under a contract, if Petrolimex Laos still used any brand identity of the previous trader within six months, the company would face a penalty of thousands of dollars each day for a single signal of brand identity that hadn't been removed.

Under Petrolimex assistance, Petrolimex Laos completed such a huge work as scheduled. A new face with the familiar letter P from Vietnam began appearing in Laos.
Then, Petrolimex Laos embarked on reinforcing labour force under a commitment to ensuring employment and interests of labourers. As the business grew, demand for high-skill labour that could satisfy work load as well as work complexity was growing faster. And one of the first tasks Petrolimex Laos attached much importance to during early days was to choose staff that would stay for long with the company; fully implement regulations and policies; make timely commendation and reward; and ensure employment to gradually raise labourers' income. The practice aims to create a premise for a sustainable development in the future.
Spectacular leap
Besides material facilities available, Petrolimex Laos quickly made further investment for its own development, prioritising investment in oil depots and warehouses to ensure good source of commodities and then in retail system to directly manage and provide goods/services.
Under the support of the Lao State, administrations at all levels and people in localities, a system of petrol stations with Petrolimex logo design and brand identity standards rapidly developed. From zero petrol stations of its own in 2011, Petrolimex Laos has increased petrol stations from four in 2012 to eight in 2013, 12 in 2014, 17 in 2015 and 18 this year. Petrolimex Laos' petrol stations bring about sales of some 30,000cu.m annually through direct retails, which continues to rise.
In addition, Petrolimex Laos takes head to maintaining and expanding direct wholesale channels and developing agents and general agents.
The total petroleum sales only reached 20,000cu.m/per year in 2011 when Petrolimex Laos started taking over the business; but the sales jumped to 120,000cu.m in 2015, accounting for 11 per cent of the market share in Laos, and making Petrolimex Laos rank four among 22 petroleum businesses in the country.
For the past five years, Petrolimex Laos has always abided by petrol pricing policy regulated by the Lao Government and fully obeyed the country's law. The Lao Petroleum Association and Lao market management bodies also rank Petrolimex Laos second place in terms of customer-serving quality criteria.
Besides the main commodity, Petrolimex Laos laid down as a policy the development and trading of goods/services produced/supplied by Petrolimex's specialised corporations and companies, such as lubricant and asphalt, which has proved to be potential.
More than 200 Petrolimex Laos' officials and labourers, 80 per cent of which are Lao employees, are exerting themselves night and day to supply Lao customers with Petrolimex goods/services of best quality in order to make a success of their business, actively contributing to international economic integration and strengthening the friendship between Laos and Vietnam.
During five years doing business in Laos, Petrolimex Laos has always been proud of its achievements. That will further build up trust to enable Petrolimex Laos to advance and go further.
Petrolimex Laos' 2015 business result:
- Turnover: US$81 million
- Contribution to the Lao State budget: US$35 million
- Pre-tax profit: US$800,000
Lao National Television broadcast the Golive ceremony of the Petrolimex Laos' Egas system.