Year of the Horse spring comes with success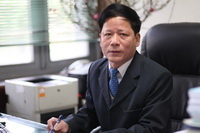 The year 2014 for the East Asians is the Year of the Horse which is linked with the motto "The Horse arrives with Success" . I would like to quote this phrase to express my wish for the coming Spring.
Minute of the year eve is the sacred moment of heaven and earth. I would like to request the Industry and Trade Magazine (ITM) to convey my greetings to every body, every readers family the wish for Good Health, Happiness, Peace, Prosperity and Success with the Coming Horse.
Like everybody in the new year eve, I feel sacredly in front of the altar of my ancestors, and full of wishes for the best things to the families and one selves, for everybody, for the enterprise and for the country.
Petrolimex Director General Tran Van Thinh
I pay respect to Petrolimex workers who are still working on vessels plying oceans to bring oil to the country, the workers at terminals for the oil stream to flow, the drivers of tank trucks on all corners of the country. They welcome the Year Eve in their work in-between heaven and earth, and surely they would dearly miss their families.
Next to that are workers on duty at the service stations, gas stations to be ready to welcome the first customers of the new year day.
Officers and workers of Petrolimex on working terms abroad are sure to remember the motherland and native land . This point of time they would have more love for each other, more bondage for each other.
Being in any place, our Vietnamese pay respect to this moment and this life. Although there will be difficulties and hardships, I believe we are full of hope for the best things, and promise ourselves to strive harder, to exert greater efforts for a better life.
I have a presentiment that the new year will continue to be a stable and peaceful year, a year for Vietnam's continued successful integration and all-sided development.
Greetings for the New Year of Luck and "The Horse Arrives with Success".