Petrolimex Group Commercial Joint Stock Bank (PG Bank) and Hanoi Railway Transport Joint Stock Company (Haraco) organised a signing ceremony of a credit agreement for the building of 30 new carriages in Hanoi on October 19.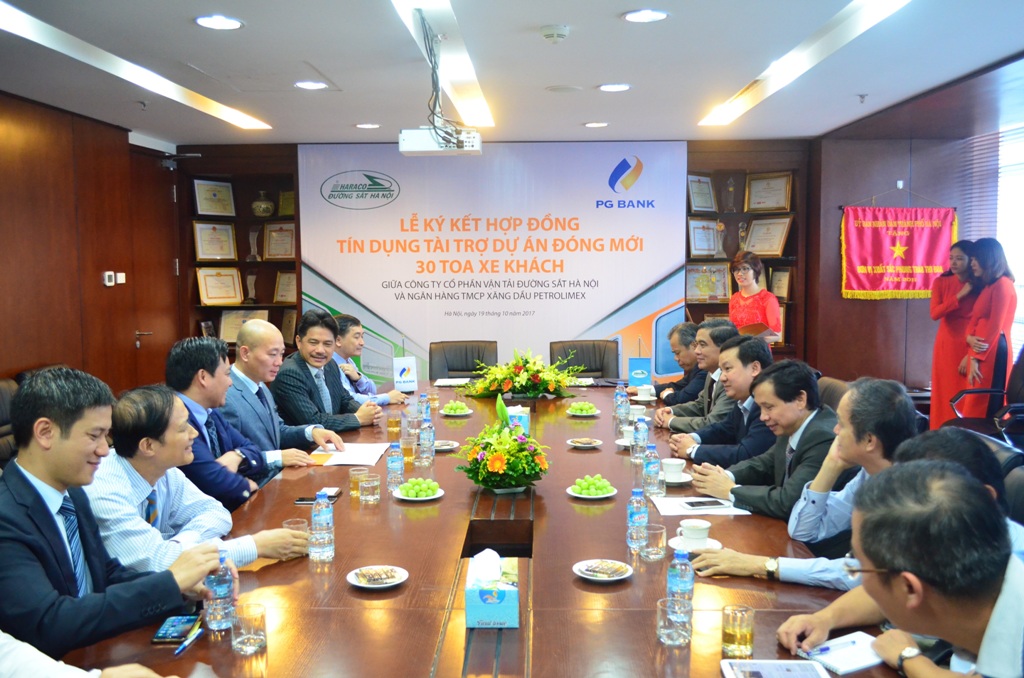 The signing ceremony witnessed the attendance of representatives of Vietnam Railways, Vietnam National Petroleum Group (Petrolimex) and signatories.

Under the agreement, PG Bank will be the sole sponsor for the project with a total funding of VND270 billion (US$11.88 million) for the project. The project aims to improve service quality of the railway transport sector, in line with the competition trend of the railway transport sector with other transport sectors.
Director General of Hanoi Railway Transport Joint Stock Company Tran The Hung and Director of PG Bank's Hanoi Branch Nguyen Tran Phong sign the credit agreement.
PG Bank and Haraco pledged to accompany the project for the development of Vietnam's railway transport sector in order to enhance the service quality of the sector, upgrade, improve carriages and operating modes, optimise quality of serviced provided to customers, and ensure set targets such as quality, competitive price, convenience, punctuality, improved services and products and complete safety.

Addressing the ceremony, member of the Petrolimex Board of Management and Deputy Director General Vu Ba Phu emphasised the goodwill and long-standing co-operation between Petrolimex and Vietnam, further promoting more comprehensive and effective co-operation, especially in maximising resources and advantages of member companies of Petrolimex and Vietnam Railways.
54
-
23/10/2017 08:39' SA