The Board of Management of Vietnam National Petroleum Group (Petrolimex/PLX) solemnly organised an Announcement Ceremony publicising personnel decisions on October 31, 2017 at the Group's Meeting Hall.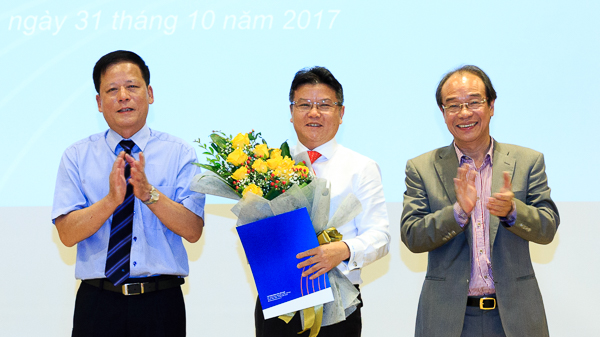 Chairman of Petrolimex Board of Management Bui Ngoc Bao hands over the Decision and Petrolimex Director General Tran Van Thinh presents flowers congratulating new Director General Pham Duc Thang
According to decisions made public, Petrolimex Director General Tran Van Thinh will begin his retirement as regulated as of November 1, 2017 and Board of Management member – Deputy Director General Pham Duc Thang will officially assume the position of Petrolimex Director General on the same day.
The Announcement Ceremony was solemnly held with the attendance of Deputy Minister of Industry and Trade Do Thang Hai, Standing Committee member – Head of Organisation Committee of the Central Business Bloc's Party Committee Hoang Giang, representatives of the Ministry of Industry and Trade's departments of Personnel and Organisation, and Domestic Market; all key officials of the Board of Management, Supervisory Board, strategic partner JX, Board of Directors, heads of Petrolimex's social – political organisations (Party Committees, Trade Unions, Youth Unions, War Veterans' Association) and head, deputy head of the Group's divisions; Chairman, Director General/Director of Petrolimex's specialised Corporations/Companies based in Hanoi.
Addressing the event, Deputy Minister of Industry and Trade Do Thang Hai and Petrolimex Board of Management chairman Bui Ngoc Bao acknowledged and thanked Director General Tran Van Thinh who had 39 years of revolutionary activities, in which he spent 32 years continuously devoting and contributing his physical and mental strength to the development of Petrolimex throughout different positions in Petrolimex.
Of note, as the Head of the Board of Directors since December 1, 2011 (when Petrolimex shifted its operation model as a public company), Director General Tran Van Thinh along with Petrolimex officials and managers as well as Petrolimex labourers overcome hardships and accomplished many important tasks, advancing the Group to a new development state. As soon as Petrolimex was listed on the stock exchange (April 21, 2017), the enterprise has been widely recognised by shareholders, customers, partners, consumers and the public for its corporate management, national responsibility, business performance and brand status.
During the course of his work, Director General Tran Van Thinh has showcased many precious qualities as his devotion to work, and for the shared interests; thus, Petrolimex officials and employees always have a sincere respect for him with whole-hearted sentiments.
Speaking at the ceremony, Director General Tran Van Thinh and new Director General Pham Duc Thang expressed their gratitude to generations of predecessors and Petrolimex staff; to higher-level leadership and leaders of localities, customers, partners, consumers, and shareholders in Vietnam and abroad for having always trusted and having deep affection for Petrolimex to enable the Group to steadily develop in the direction of the Party, State, Government; whilst meeting expectations of shareholders and consumers.
New Director General of Petrolimex Pham Duc Thang said he would do all-out efforts to join force with Petrolimex leadership and staff to continue fostering the development of Petrolimex House to deserve the trust of everyone.
The ceremony took place over an hour with heartfelt emotions, applauses, fresh flowers, thanks and congratulations presented to Petrolimex leadership.
The Editorial Board of the website www.petrolimex.com.vn would like to present a photo essay featuring details of the Announcement Ceremony in follow-up news bulletins.
Photo essay "Steady foundation, ready to follow suit": Here.