Petrolimex Equipment JSC (PECO) inaugurated a complex of branch office and station service at Saigon Hi-tech Park in District 9, HCM City on December 28, 2017. The historic event marks a new step of energetic development of PECO and the company's official participation in petrol retail in the country's most dynamic market.
The event witnessed the attendance of representatives of local authorities including Le Thanh Dai, Deputy Head of Saigon Hi-tech Park's Management Board; Nguyen Nguyen Phuong from HCM City's Department of Industry and Trade; and officials from other departments and sectors. Representatives of Vietnam National Petroleum Group (Petrolimex) include Do Huu Tao – a member of Petrolimex's Party Committee's Inspection Unit and head of Petroleum's Technique Division; and directors, deputy directors of Petrolimex's one-member limited companies, namely: Petrolimex Saigon, Petrolimex Ba Ria-Vung Tau, Petrolimex Lam Dong, Petrolimex Can Tho, Petrolimex Tra Vinh, Petrolimex An Giang, Petrolimex Vinh Long, Petrolimex Dong Nai, Petroleum Mechanical Stock Company, Nha Be Petroleum Terminal, and Petrolimex Engineering JSC branch, among others.
Attendees also include leaders from PECO's traditional customers such as: PVOIL, Xuyen Viet Oil Travel and Transport Trading Co., Ltd., Nomura Trading Vietnam, Saigon Petro, Tin Nghia Co., Ltd., Materials – Petroleum Joint Stock Company (COMECO), Thai Son Petrol JSC, and Minh Phat Company.
An overview of the opening ceremony
Saigon Hi-Tech Park is one of the three national hi-tech parks established by the Government with the aim to become "A high technology-science city"; a scientific heart and locomotive of Ho Chi Minh City as well as of the whole country. The facility also serves as a place that positions hi-tech activities through the presence of Vietnam's and world's leading groups including Intel, Samsung or FPT, and so forth. The operation of the hi-tech park over the past years has fostered the development of other supporting industries, terminals and logistics.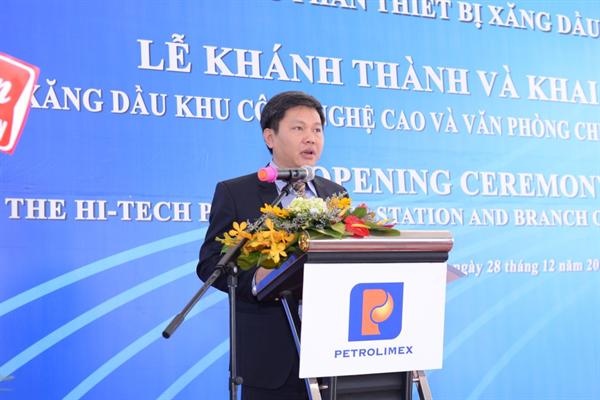 Head of Petrolimex's Petroleum Technique Division and Chairman of PECO Board of Management, Do Huu Tao, delivers a speech at the ceremony
Recognising advantages of policy for investment attraction, development potential and actual demands for petrol use at the hi-tech park in particular and in District 9 in general, the company has proactively initiated the project which was then approved of by Petrolimex leadership, Ho Chi Minh City's People's Committee, and the hi-tech park's Management Board. In May, 2017 PECO officially broke ground for the construction of the complex "PECO branch office in Ho Chi Minh City – Saigon Hi-tech Park service station" located at Plot T5-1 with a total area of nearly 3,100sq.m; in proximity with the key traffic route connecting the hi-tech park with national roads and highways all through to eastern and southwestern provinces. The project was conducted by PECO's Ho Chi Minh City branch.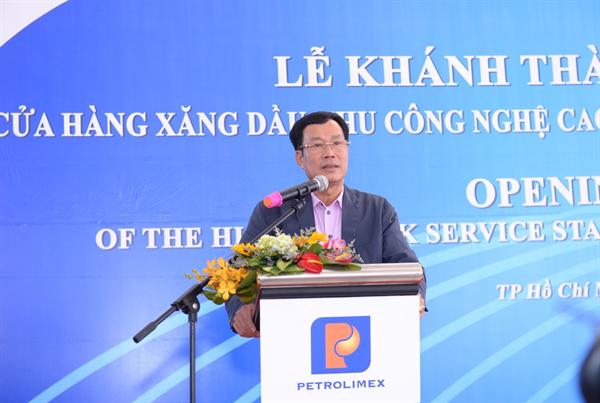 Chairman of Petrolimex Saigon Nguyen Van Canh makes a congratulatory remark at the opening ceremony
The complex of "PECO branch office in Ho Chi Minh City – Saigon Hi-tech Park service station" was built synchronously in accordance with Petrolimex's branch standards, and equipped with state-of-the-art devices. The facility also serves as a place to display and introduce PECO's hi-tech and most advanced products in the areas of manufacturing fuel dispensers, supplying supporting equipment, materials and technologies, technical services and solutions to manage and automate petrol warehouses and petrol stations.
The facility enables customers to directly learn about and examine operation process of devices such as PECO-manufactured electronic fuel dispensers branded PECO and TATSUNO (Japan), which are of high precision and most advanced ones in Vietnam at present. US submersible pumps (force pumps) were installed at the underground storage tank containing a pipeline linkage control device, a force pump that could be used for various fuel dispensers and especially be useful for petrol stations with storage tanks located far from fuel dispensers (the distance can be up to 150-200m) but still ensures the flow and accuracy of fuel dispensers. The UPP piping systems (manufactured by Franklin - US) make it easy to install, and are durable for over 30 years, guaranteed in more than 10 years, and are not eroded as steel ones, so they are highly applicable to petrol stations in salinised areas. Automatic Tank Gauging Systems constructed by Franklin Fuels – US automatically connects fuel dispensers and the petrol station management software developed by PECO. That thermal receipt printers are built in PECO-manufactured fuel dispensers ensures transparency and availability of information; and PECO also developed thermal receipt printers for present fuel dispensers. The service station roof was built with advanced materials whilst the lighting system uses LED bulbs manufactured by Japan's Stanley Electric Co., Ltd..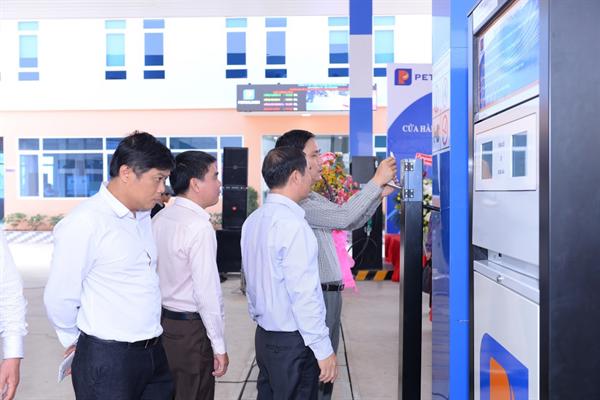 Retail thermal receipt printer is installed for PECO-manufactured fuel dispensers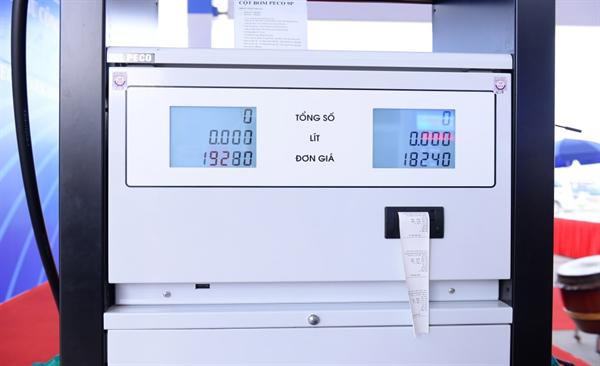 PECO-manufactured thermal receipt printer is built in fuel dispenser
Distinguished guests and PECO leaders cut the ribbon for official opening of the newly-construction complex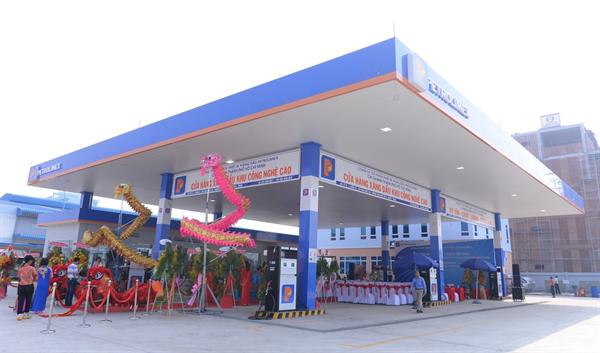 An overview of the Saigon Hi-tech Park service station
In his congratulatory remark, Deputy Head of Saigon Hi-tech Park's Management Board Le Thanh Dai said the park only prioritised enterprises that manufacture, use, research and develop high technologies to operate in the hi-tech park, and Petrolimex Equipment JSC had a competitive advantage over other businesses to invest in Saigon Hi-tech Park.
Addressing the opening ceremony, Chairman of Petrolimex Saigon Nguyen Van Canh congratulated PECO leadership and staff for their 2017 performance which exceeded the set target. Canh spoke highly of the dynamism, creativity, and devotion of PECO leadership over the past years, which has been demonstrated through impressive outcomes and official participation in the petroleum retail market in Ho Chi Minh City.
On behalf of the company's leadership, Chairman of PECO Management Board Do Huu Tao thanked local authorities at all levels for their support and facilitation for PECO's operation in the locality. Also on the occasion, he was thankful for all friends, partners, and customers who have supported and closely worked with PECO over the past years and pledged that the Ho Chi Minh City-based branch would contribute to the general development oriented by the municipal People's Committee and Saigon Hi-tech Park's Management Board. It is hoped that customers would continue building up their trust when using PECO's hi-tech petroleum products, solutions, and services.
Some photos feature the event: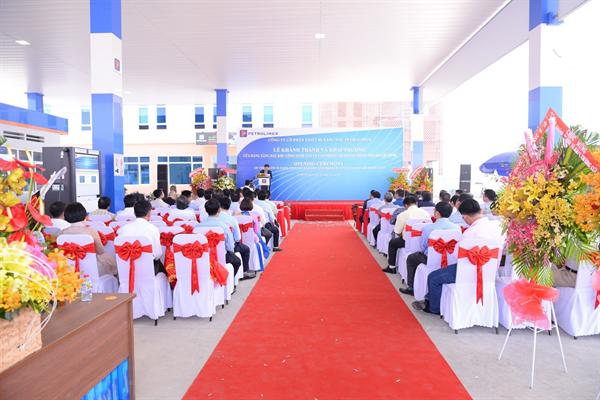 An overview of the opening ceremony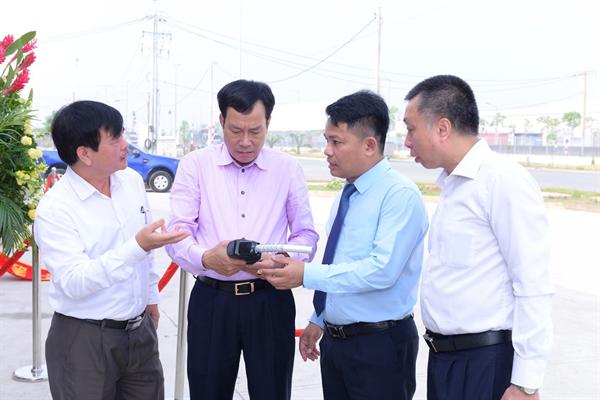 A super lightweight oil gun produced by Japan's Tatsuno Corporation is presented to the event participants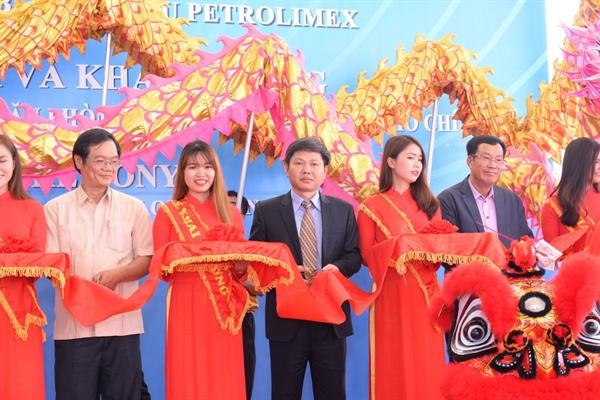 Ribbon-cutting ceremony marks the official opening of the complex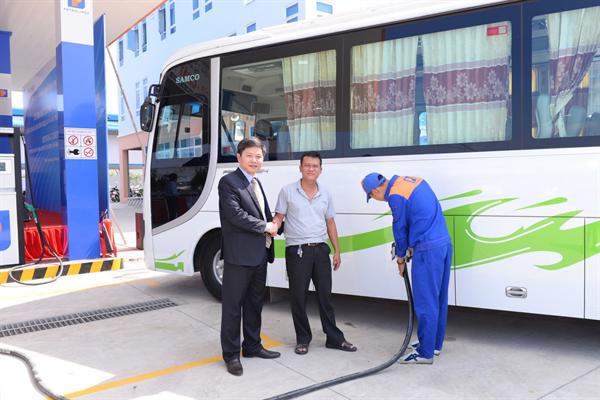 PECO Chairman Do Huu Tao thanks one of the first customers of the petrol station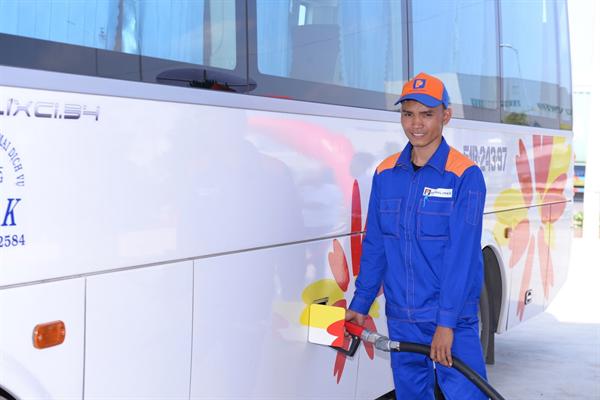 The very first drops of petrol are filled in a means of transport – demonstrating the driving force for next steps in the future