As a member company of the Vietnam National Petroleum Group (Petrolimex); inheriting a sound basis and fundamental values, and a wide retail network, especially the trust of customers; having a steady financial structure; and maintaining stable growth, Pjico increasingly asserts itself as one of leading reliable insurers in Vietnam.
Currently, Pjico's three biggest shareholders are the Vietnam National Petroleum Group (Petrolimex), the Joint Stock Commercial Bank for Foreign Trade of Vietnam (Vietcombank) and the Vietnam National Reinsurance Corporation that own a total 66 per cent of the company's shares. Pjico, with code PGI in the stock exchange, has achieved positive business results and maintained stable growth over the past years. In 2016, PGI's liquidity sharply increased as compared to previous years whilst PGI itself was the one with most stable growth among insurance stocks. The company also pays an annual dividend with a payment rate of 10%/share.
According to Rong Viet Securities, Pjico's direct insurance starts showing changes after experiencing a period of hardship in 2012-2013, improving profitability and stabilising investment activities. Pjico has maintained a reasonable growth whereas the compensation rate has gradually decreased since 2014. Also, operation costs have been strictly controlled whilst financial structure stayed strong and steady since then. In 2016, Pjico's total direct insurance premium revenue was estimated at VND2,450 billion (US$108 million), a 10% increase as compared to the same period of 2015. The company's pre-tax profit reached approximately VND125 billion, an 18% increase over the same period of 2015.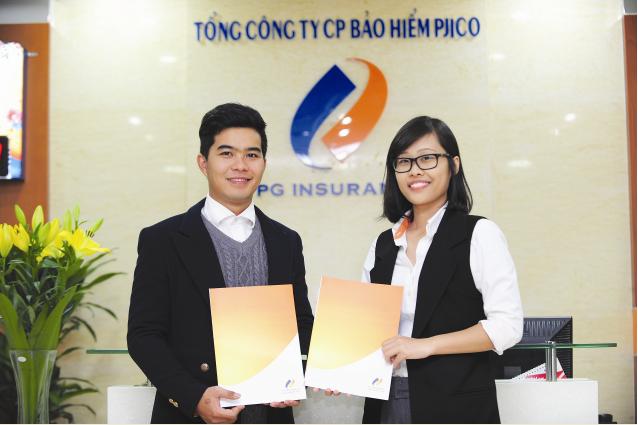 Determined to continuously improve service quality and diversify products, Pjico has affirmed its preeminence, stability and sustainability over other competitors. In the market, Pjico is known to have satisfied customers through specialised humane products including products which are accessible even to isolated and mountainous areas and ones demanding high professionalism. At present, Pjico provides over 100 products with a network of 59 member companies, nearly 1,700 employees and more than 2,300 agents nation-wide, offerings a variety of choices for customers.

As an enterprise which prioritises risk management, Pjico has distributed more into the investment portfolio and maintained the making of provision at a high rate. Nevertheless, decreased direct provision for doubtful debts indicates that the public debt has gradually been better controlled, and doubtful debts have decreased as compared to the previous year. Reduced provision for financial investments as compared to the same period of 2015 also shows that investments in 2016 experienced less inherent risks and progressed stably.
In an attempt to provide customers with best services, in 2015 Pjico co-operated with AXA PPP International (part of the global AXA Group) launching a new healthcare insurance product – Care plus. The internationally-levelled high-end insurance product not only protects customers' health but also supplies a series of added services which are unheard of in healthcare insurance products in Vietnam. The product is also regarded as a "passport" for customers' health and reassures customers wherever they are in the world.
Besides improved quality of products, Pjico has attempted to better service quality by uniforming the quality of services provided by all member companies to make sure that customers, no matter where they are, will be served wholeheartedly and thoughtfully; and focused on expanding the network in potential markets across the country. Pjico asserts its status through number four in the top 10 Vietnam most reputable insurers in 2016 ranked by Vietnam Report on the basis of three criteria being financial capacity, media credibility, and customer satisfaction towards insurance products and services offered by insurance companies. And to make it to the top four, Pjico satisfied all the three criteria mentioned above.

Pjico has not only well performed in its business but also attached special attention to community activities targeting the poor. During final months of 2016, Pjico mobilised and collected nearly VND800 million (US$3,600) to help flood victims in the central region. With non-stop efforts in both business and social activities, Pjico has received numerous noble awards from the Party, State, ministries and sectors. That Pjico was presented the Labour Order, First Class – a noble award recognising the company's 20 years of establishment and development – by the Party and State in 2015 featured a special hallmark and a great spiritual encouragement for Pjico to gradually conquer growth peaks, contributing to developing the domestic non-life insurance market.
Making itself number four in the top 10 Vietnam most reputable insurers in 2016 further affirms the non-stop rise of Pjico.
With a network nation-wide, offering hundreds of diverse customised products, Pjico has provided a variety of choices, maximising insurance benefits and most convenient services for customers.