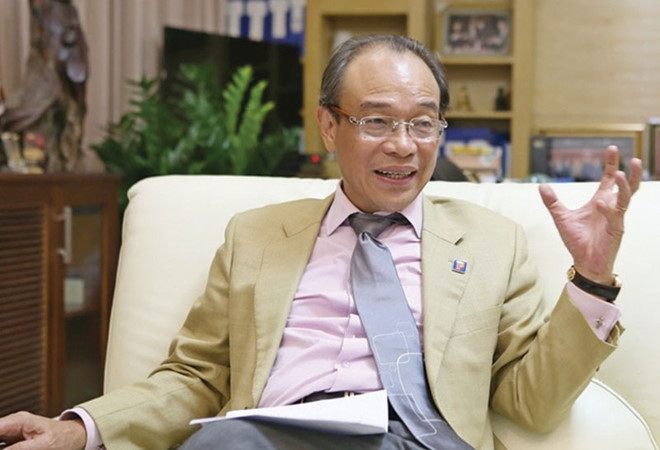 In a frank interview with the Dau tu Chung khoan (Securities Investment) newspaper during final busy working days of the lunar Year, the Vietnam National Petroleum Group (Petrolimex) Chairman Bui Ngoc Bao provides lively and vivid images of a Vietnam's leading economic group.
Petrolimex is becoming a focus of investors as the Group's shares are to be listed on the stock market after six years of making the official public offering (IPO). Could you please say something about this remarkable turning-point?
Since 2013 Petrolimex has been a large-size public company that must comply with numerous strict requirements and approach standards set for enterprises listed on stock market. Actually speaking, we have seriously abided by strict requests that the State Security Commission of Vietnam set for companies of this group.
For example, as a multi-sectoral company operating throughout 63 provinces and cities nation-wide, it demands huge efforts to complete an integrated financial statement on time, which must be made public within 45 days after each financial year. Petrolimex has regularly completed and publicized reports on schedule in line with the State Security Commission of Vietnam's regulations.
There is no so-called "term upheaval" in Petrolimex as Petrolimex's leaders have different thoughts on development strategies but share a common view of the obedience of commitments, both at home and abroad, which is seen as the enterprise's prestige.
- Petrolimex Chairman Bui Ngoc Bao
Why haven't Petrolimex's shares been listed on stock market? Petrolimex hasn't satisfied all conditions. By 2016, the State capital at Petrolimex had been sufficient as regulated. Concurrently, Petrolimex completed issuing additional shares, and selling shares to foreign strategic partners, reducing the State capital to less than 75 per cent in accordance with approved equitisation plan. If all listed conditions are satisfied, we are determined to list shares on the HCM Stock Exchange in the first quarter of 2017.
Enterprise's performance always matters most to shareholders and investors. Could you please describe how strong Petrolimex is?
Petrolimex is a multi-sectoral group but it does not run after massive investment, its expansion is based on State decisions for specialised services.
For instance, initially Petrolimex was engaged in petroleum transport as an essential demand to fulfill the Group's duty to carry petroleum from one place to another. Then the State allowed the mergence of the ocean shipping company. The move continued in other areas of petrochemistry, gas, and insurance, among others. These supporting professions are closely related to the trading of oil and gas.
Petrolimex has a dense network of nearly 2,400 filling stations in all 63 provinces and cities nationwide
Petrolimex is a multi-sectoral organisation but it does not seek for and run after unusual profits, instead it develops enterprises with vision and orientations for long-term and independent development. In any new sector, enterprises using Petrolimex funds always attempt to stand among the top of that sector.
Let's take some example. The Vietnam Petroleum Transport JSC currently tops Vietnam in terms of the number of vessels, and of ocean shipping. The Petrolimex Petrochemical Corporation (PLC) also takes the lead in lubricant, asphalt, and chemical. The Petrolimex Gas Corporation JSC (PGC) is strong at developing a retail network of gas trading. Petrolimex Insurance Corporation (PJICO) is one of the four insurers that have largest size and market share in Vietnam.
Petroleum is a type of goods managed by the State and the State has oriented to operate oil and gas trading activities according to market mechanism and based on competition. Accordingly, an enterprise's performance will be assessed through financial indicators.
The Decree No 83/2014/ND-CP provides relatively sufficient conditions and sanctions for the trading of oil and gas under market mechanism. Over the past two years, the petroleum market has been more stable, operating under market mechanism and post-equitisation management elements, consequently, Petrolimex's performance has remarkably improved.
In 2015, we paid an annual dividend with a payment rate of 15%/share, higher than the targetted 8%/share. In 2016 Petrolimex continued reaping success with the consolidated profit estimated at VND6,000 billion (US$263 million). What is more important is the enterprise's growth potential and brand prestige with a dense network of nearly 2,400 petrol stations across all 63 cities and provinces and a strict business management system.
The Group's profit mechanism proves relatively sustainable as the trading of oil and gas accounts for 50-60%, 40-50% of total profits earned. Such profit mechanism has further asserted the effective business strategy in which Petrolimex would not expand into sectors which have no link to Petrolimex's key profession of petroleum trading.
Petrolimex has applied modern management manners for ages. The enterprise resource planning (ERP) management system, for example, is described by its partner FPT as a "Dien Bien Phu Battle in the Air". Where did such change stem from?
Due to characteristics of the profession, the activity of keeping business account is the most complicated phase for Petrolimex, requiring a strict control system for the monitoring and supervising goods and money. Such corporate governance is demonstrated through not only the leadership's awareness but also an internal requirement in the Group's operation.
It can be said that in the past, during the subsidy period, Petrolimex did develop the strongest governance and business accounting system among other State groups and corporations. With that in mind plus the development of information technology, Petrolimex became the first corporation to broadly apply the ERP system in 2010. The software system satisfies requirements for modern and transparent governance of petroleum, and operation under the market mechanism, and requirements set for a large-size public company.
ERP is a backbone system, based on which Petrolimex's enterprises can create their own programmes suitable for their actual management needs. The Egas software developed by Petrolimex Information Technology and Telecommunications JSC has helped set up a management system inside each petrol station, monitoring every single litre of petroleum sold in real time, integrating automated content such as receiving signals from dispensers and automatically gauging tanks, and integrating with the card payment system. It can be said that Petrolimex has a developed infrastructure as compared with those of enterprises in the region.
Petrolimex's market share in the petroleum sector used to reach 100%, but has reduced to around 50%. How could you say about the fierceness of competition in the petroleum market at the moment?
This market has always been fierce by its very nature due to high liquidity of goods. Currently, besides approximately 30 licences allowing the import, new licences are expected to be issued soon. Petrolimex pursues the policy of non-price competition, which means we stay competitive based on the quality of products and services.
The Group always adheres to its advantages as an enterprise with tradition, prestige, nation-wide network, long-term commitment to customers and state-of-the-art management devices.
Investment is defined as a purchase of enterprise's future. In the future, are there any possibilities to raise Petrolimex's operational efficiency?
Strict management and making a real difference are seen as growth potential of Petrolimex. At present, petroleum is a type of goods governed by the State under general criteria and manners, thus, there is no particular brandname for the product. We're keen to have our petroleum registered under a specific name.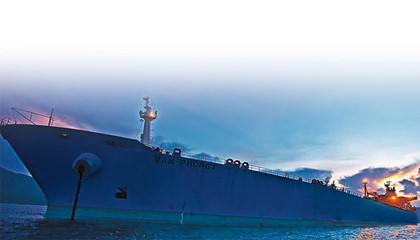 For instance, the RON 92 petrol meets general standards but each firm has additional different elements, such as Petrolimex's RON 92 petrol standards are applicable to Euro 3 and Euro 4 quality.
With different quality and different serving criteria, operational efficiency of enterprises is not the same.
In many businesses, a gap is obviously growing, large enterprises become larger and small ones become smaller or even disappear gradually. What is the outlook for the development of the oil and gas industry in Vietnam based on the development trend of countries in the region?
The oil and gas business does not seek for super profit as it is actually a service industry monitored by social segments, the Government and people, and civil authorities. Thus, profit is brought about through services.
Petroleum enterprises' capital accumulation shows a general trend in the region and the world.
It is difficult for enterprises with less than 5% of market share to exist and develop. When the market stays stable as seen in developed countries, there exist about 10 enterprises somewhere through the process of self-accumulation in order to reduce cost price. For instance, there are only four or five enterprises in Japan at present.
In late 2014, Petrolimex embarked on a strategic cooperation with Japan's JX Nippon Oil and Energy. Investors wondered why Petrolimex decided to "get married" with Japan as it had many proposals. Could you elaborate?
Regarding strategic partners, enterprises will have different selection criteria. For us, two sides must actually need each other. Petrolimex has integrated for a long while. Some tens of years ago, we did have relationship with over 100 foreign firms. We are determined that enterprises of same profession do not compete with each other but develop together.
We have a variety of similarities regarding development objective, share points of view openly, and assist each other in improved corporate management, and so forth. There is no so-called "term upheaval" in Petrolimex as the Group's leaders have different thoughts on development strategy but share a common view of the obedience of commitments, both at home and abroad, which is seen as the enterprise's prestige.
We did we choose JX? JX is the Japan's biggest company whose operation is exactly the same Petrolimex. By March 2016, they had accounted for 50% of the local market share. They have a long history of more than 100 years, and experience in the organisation of business activities and have development strategies similar to ours.
JX is a frank and responsible shareholder which is always ready to assist Petrolimex, especially in corporate management. When Petrolimex chooses a shareholder, it is not just money. For an enterprise operating under the State mechanism, changes cannot be made over night. The reorganisation of the enterprise, system, and personnel requires for a cultural identity and a shared view for sustainable development.
The world is rapidly changing, any upheavals are considered normal, but changes of old-fashioned ways of thinking and doing are not easy at all. Which philosophy do you follow to manage such a large-size group with networks spreading across the country?
Any renewal or change always gives rise to conflicting viewpoints, and encounters obstacles as well as challenges on the chosen path. The matter of making changes or keeping inact often arises in each particular period of management, but it is important that both directions target a common aim of improved corporate operation.
During the 60 years of development, any changes in Petrolimex received support, though not all changes could produce effects immediately. Managers like me consider changes as normal, even though changes bring along hardship, or even a sacrifice of internet.
When choosing an enterprise to make investment, or choosing a partner for strategic co-operation, the leadership element is always "considered" thoroughly. For enterprises using State budget, such element has recently put into the "scale". What do you think?
That is an indispensable trend of State enterprises. The tendency to privatisation of almost all State enterprises will put the leadership of enterprises using State budget under shareholders' pressure which never existed before.
It will be time when chairman, general director of an enterprise must consider carefully whether he could make it. In many enterprises, the leader faces enormous pressure concerning their responsibility.
As far as I'm concerned, only when a candidate qualified for leadership has to think twice before he takes the position will a State enterprise be successfully renewed. And I am convinced that the time is not far off.